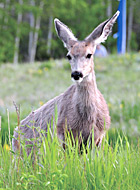 Mindfulness and Compassion Meditation Retreat
Janet Solyntjes and David Spound
November 4–13, 2016
Tuition $775 + 9 nights
A 9-day, teacher-led, silent retreat
Co-sponsored by the Center for Mindfulness in Medicine, Health Care, and Society.
All of us have an innate capacity to experience well-being, resilience, and unconditional care and kindness. In order to enhance this capacity, we explore the power of mindfulness and related practices such as loving-kindness and compassion for self and other. This Mindfulness and Compassion Meditation Retreat emphasizes the direct experience of mind and heart in a powerful silent container, supported by the indescribable and vivid beauty of the Rocky Mountains that surround the retreat center.
The Mindfulness Meditation Retreat is suitable for mindfulness teachers or aspiring teachers, and fulfills the retreat prerequisite for attending Oasis Institute training programs.
This retreat includes meditation instruction, small group interviews with one of the retreat leaders, talks by the retreat leaders, guided sessions of meditation practice, movement exercises, and mindful eating, as well as sessions of contemplation and teachings to deepen understanding of the practice.
This retreat is based on core principles and practices of the Mindfulness-Based Stress Reduction (MBSR) course developed by Jon Kabat-Zinn, Saki Santorelli, and colleagues at The Center for Mindfulness in the University of Massachusetts Medical School.
Program Goals
Provide a safe and nourishing environment for the cultivation and development of a deep and grounded mindfulness meditation practice.
Foster a rigorous retreat experience, independent of a specific religious outlook, that fulfills Oasis Institute prerequisites.
Offer excellent support and guidance from highly trained and experienced teachers and meditation instructors.
Practice noble silence to develop a strong container for deepening meditation practice.
Please be aware that practicing for 9 days in silence can be an intensive and challenging – as well as a highly rewarding – experience. We strongly recommend that all participants have a regular meditation practice as well as prior experience with instructor-led mindfulness training programs. If you have any questions about this recommendation, we welcome your inquiry.
Sample Daily Schedule
7

:00

8:00

9:00

11:30

12:30

1:30

3:00

5:00

5:30

6:30

7: 30

8:00

10:30

Meditation, sitting and walking

Breakfast

Meditation

Teachings

Lunch

ROTA (community work period) or Rest

Meditation

Tea

Meditation

Dinner

Meditation

Evening talk

Lights out
Participant Guidelines
Attendance Requirement
Participants must attend all practice sessions
Attitudes
Non-judging
Patience
Beginner's mind
Trust
Non-striving
Acceptance
Letting go
Kindness
Compassion
Expectations
Self-care
Confidentiality
Listening and participating
Silence
Non-disruptive
Genuine effort
No food or drink (except water) in meditation room
If you are interested in an introductory program or are fairly new to mindfulness practice, you may enjoy Janet's other Mindfulness-Based Stress Reduction programs, such as Mindful Living: Teachings and Practices from MBSR (April 21- 25, 2016) 
Janet Solyntjes, MA, is a Certified Mindfulness-Based Stress Reduction (MBSR) teacher and has been leading silent meditation retreats in the U.S. and internationally for over 30 years. She provides online study groups and individual mentoring to mindfulness teachers-in-training and has been on the faculty of Naropa University, the Center for Mindfulness, and the Engaged Mindfulness Institute.
Janet facilitates the annual leadership retreat: Leading with Genuine Care (formerly donothing retreat) for entrepreneurs and supports business leaders and teams in the integration of mindfulness into workplace settings.
David Spound, M.Ed., is the Director of Valley Mindfulness in Northampton, MA. He is a certified teacher and teacher trainer of Mindful Self-Compassion (MSC) and Mindfulness-Based Stress Reduction (MBSR). He has trained and worked extensively with the UMass Center for Mindfulness, the UC San Diego Center for Mindfulness, and the Center for Mindful Self-Compassion. David trains and mentors new teachers of MSC and MBSR. He also leads silent meditation retreats for MSC and MBSR teachers, online training programs for teachers and graduates of MSC, and a men's self-compassion workshop. He can be reached through www.valleymindfulness.com.