Shambhala
In today's high-paced, high-stress world, each of us has the natural capacity to find peace, clarity, wellbeing and compassion within ourselves. The best means of tapping into this inner capacity is through the use of meditation – a simple practice of coming back to the present moment via the breath, the body and the senses.
Our contemplative workshops are suited for both beginning and experienced meditators. For those who are new to meditation and other contemplative disciplines, we offer Learn to Meditate and Shambhala Training Weekends. Our Retreat and Renewal programs include an introduction to meditation. There are no program prerequisites.
Shambhala Training is a meditation discipline that helps us to develop fearlessness, confidence, openness and gentleness. The training path begins with a series of Heart of Warriorship weekends that help to establish a personal meditation practice. Each program includes meditation instruction, Shambhala teachings, group discussions and individual interviews.
Our retreat environment is an ideal setting in which to get started or to deepen your meditation practice. Join us and learn how you can transform the challenges of daily life into opportunities for both contemplative practice and social action.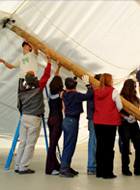 Open Dates
Join us as we dismantle our summer campus and prepare the land for winter. Work hard, meditate, participate in workshops and classes, make new friends and integrate your spiritual practice into everyday life. Your schedule will include six and a half hours of work each day, six days a week. In exchange, you will receive […]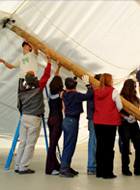 Open Dates
Register now to join us as we dismantle our summer campus and prepare the land for winter. Work outdoors, meditate, participate in workshops and classes, make new friends, and integrate your spiritual practice into everyday life. Your schedule typically includes approximately six hours of work each work day. In exchange, you will receive meals and live […]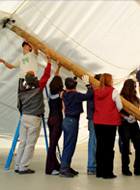 Open Dates
Welcome to Fall Take Down 2017! Sundays are arrival days. Please arrive by 5:00 p.m. to ensure a smooth check in process. There will be a brief orientation at 7:30 p.m. each Sunday evening after dinner, which begins at 6:30 p.m. Departure days are also Sundays generally. This allows you to participate in weekend programs if you wish to […]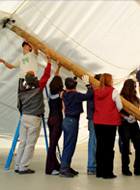 Open Dates
Welcome to Fall Take Down 2018! Sundays are arrival days. Please arrive by 5:00 p.m. to ensure a smooth check in process. There will be a brief orientation at 7:30 p.m. each Sunday evening after dinner, which begins at 6:30 p.m. Departure days are also Sundays generally. This allows you to participate in weekend programs if you wish to […]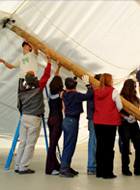 Open Dates
Welcome to Fall Take Down 2019! Sundays are arrival days. Please arrive by 5:00 p.m. to ensure a smooth check in process. There will be a brief orientation at 7:30 p.m. each Sunday evening after dinner, which begins at 6:30 p.m. Departure days are also Sundays generally. This allows you to participate in weekend programs if you wish to […]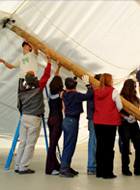 Open Dates
Welcome to Fall Take Down 2020! Sundays are arrival days. Please arrive by 5:00 p.m. to ensure a smooth check in process. There will be a brief orientation at 7:30 p.m. each Sunday evening after dinner, which begins at 6:30 p.m. Departure days are also Sundays generally. This allows you to participate in weekend programs if you wish to […]

Greg Smith
December 8–15, 2023
This is the online registration page. If you would like to participate on the land at Drala Mountain Center, please click here. This Hybrid Chakrasamvara Intensive is geared toward the accumulation of the recitation practice in a group setting. If you are just learning the practice, this is a good opportunity to become more familiar […]

Greg Smith
Open Dates
Attend the full program or self-select arrival and departure dates between December 8th and 16th for partial attendance. Lodging prices for this retreat have been reduced by between 8% and 12%, depending on lodge room type, to make it easier for long-time practitioners to practice at Drala Mountain. This is the on-land registration page. If […]

Richard John
February 2–9, 2024
"Shamatha and vipashyana alone are the iron hook that will lead you to liberation." ~ Chögyam Trungpa Rinpoche This one-week retreat will have two tracks. It is open to everyone who is committed to the path of meditation, whether you are new to meditation or an experienced vajrayana practitioner. We will deepen our experience of […]

Jon Barbieri and Rhea Colmar
March 9–17, 2024
You are warmly invited to join in a gathering of Tantrika's in the continual presence of the lineage. This 9-day practice intensive at Drala Mountain Center is a great opportunity for new and old generations of Tantrika's to hear,  practice, and discuss the ngöndro dharma as taught by the Vidyadhara, Chögyam Trungpa Rinpoche. Experience the […]

Greg Smith
Open Dates
Join us for practice of Chakrasamvara and Vajrayogini in the Great Stupa of Dharmakaya, with added contemplations on the teachings of the Vidyadhara, Chögyam Trungpa Rinpoche. Instructions on the practice of the Sadhanas will be provided for those who need it.   Prerequisites and Practice Tracks: Chakrasamvara and Vajrayogini tracks require having completed Chakrasamvara or […]