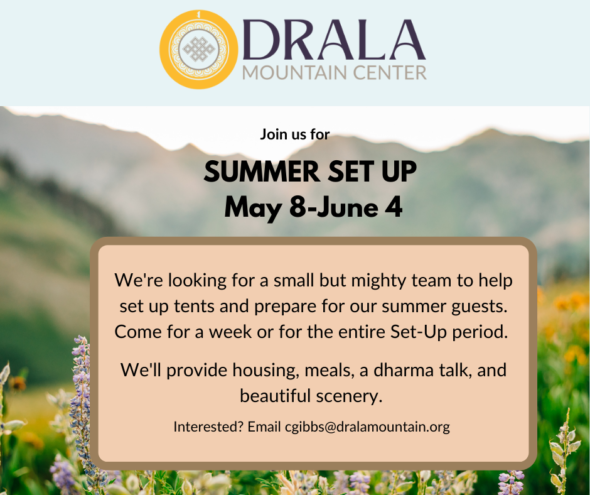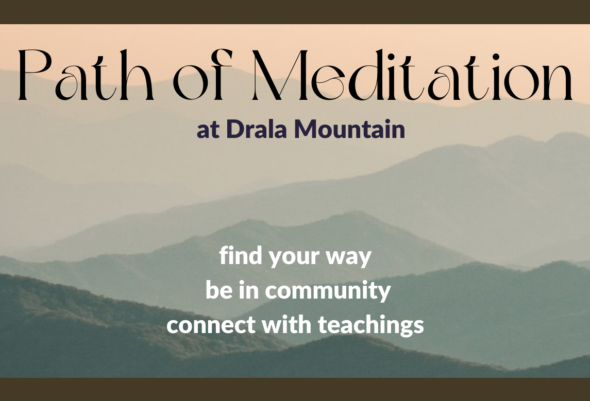 Join us for meditation retreats led by resident teacher Loden Nyima and Dhi Good. If you are looking for respite from challenges, a chance to rejuvenate and reconnect with your inner peace, this is for you. Nonsecular weekend and weeklong retreats are offered throughout the year. See the schedule.
Recent News & Announcements
Join our staff. We're hiring for seasonal and year-round positions.
SMC Announces New Name:  Drala Mountain Center  — Learn more here.
DMC Files Voluntary Chapter 11 Bankruptcy Petition. — Learn more here.
DMC's Updated COVID Policy — Please see DMC's updated COVID policy, revised March 9, 2022. Although we require Registered Guests to be vaccinated, masks are currently optional.
The land remains fragile after the Cameron Peak fire. See our Visitor Guidelines for supporting DMC's eco-recovery.
Featured Programs

Loden Nyima
May 27–29, 2022

Holly Gayley and Loden Nyima
June 1–29, 2022

Janet Solyntjes and Jon Aaron
June 24–July 1, 2022
DMC's Award-Winning Eco-Forestry Work
Drala Mountain Center is committed to stewarding the land here to expand its resiliency, capacity and overall health. Through partnerships with conservation agencies, our work extends the environmental health beyond our 600 acres. For example, firefighters were able to establish a containment line against the Cameron Peak Fire on land that DMC treated in 2018 during Phase I of a 3-phase conservation forestry project.
In the video below, Mac McGoldrick, DMC's director of built and natural environments, describes the eco-forestry and conservation work at DMC in collaboration with our partners. Thank you Fort Collins Conservation District for this beautiful video! Learn more about our eco-forestry work.
What is Drala Mountain Center?
Nestled high in the Colorado Rockies, Drala Mountain Center (DMC) provides the perfect retreat setting for studying yoga, meditation and contemplative arts. DMC combines natural beauty, unspoiled wilderness, blue skies and crisp mountain air with the comforts of a modern retreat campus. Our accommodations range from fine lodge rooms with private baths to shared same-gender dormitories and economically-priced seasonal tents on wooded hillsides. Meals, with vegetarian, vegan and gluten-free options, are included in lodging.
This is a place where many wisdom traditions are hosted, and we welcome all people inspired to explore the nature of self and society. Join us and enjoy our beautiful location and warm hospitality.
Planning a Day Visit?
Drala Mountain Center is waiting for you. Whether you haven't been here for a while or are a first-time visitor, you're welcome to come for a day visit. Occasionally we are closed to day visitors, so we recommend checking this page before you come. Some things you can do while here: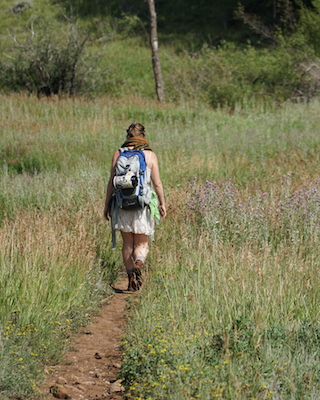 •   Hike up to the Great Stupa. This stunning work of art and architecture is well worth the time and effort to get to the land. The Stupa sustained smoke damage from the Cameron Peak Fire and the restoration work continues. In Buddhist cultures, visitors traditionally circumambulate the stupa in a clockwise direction. 
•   Enjoy a delicious meal in our dining room. A donation of $10 – $15 greatly appreciated. Vegan, vegetarian, and gluten-free options are always available. Breakfast is approximately 7:30 to 9:00am, lunch is 12:30 to 1:30pm, dinner is 6:30 to 7:30pm.
•   Visit our beautiful gift store where you'll find books, meditation supplies, clothing and jewelry. Plus:  ice cream!, snacks and other essentials. Hours are Friday through Sunday, 1:15 – 3:30 pm.
Once you experience the magic of our secluded mountain valley, you will want to come back. Sign up for a program or retreat like a Silent Meditation Intensive or book a getaway stay. We look forward to seeing you!

Sorry, dogs are not allowed at DMC. 

 While day hiking is permitted, please review our Fire Recovery guidelines. Note: Perimeter trails are closed for fire recovery.
Our COVID Policy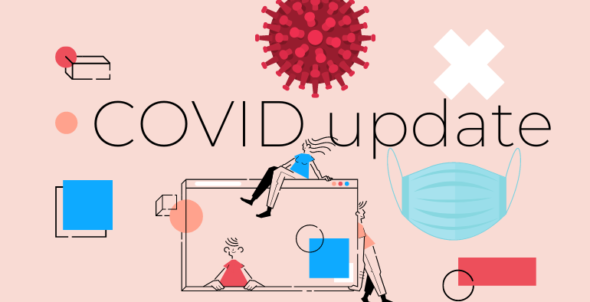 We require all program participants to be fully vaccinated before arriving at DMC.  Our COVID policy is updated periodically. We consult with a Colorado epidemiologist and check guidance from the CDC and local authorities. We will continue to review our policy periodically and update it as the conditions allow. We appreciate guests' understanding as we navigate this challenging situation. The safety and well-being of our guests is of utmost importance.
…...