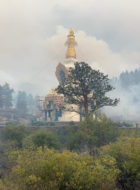 Town Hall: Rebuilding SMC after the Cameron Peak Fire
Michael Gayner
October 23, 2020
6 pm PT | 7 pm MT | 8 pm CT | 9 pm ET
FREE
Registration has closed. The event will also be live streamed to watch here, no registration required.
On Saturday, September 26th, the Cameron Peak Fire reached Shambhala Mountain Center. Many of us are grieving for what was lost, while also turning towards the process of restoring and rebuilding. In addition to the updates regularly provided here on the Cameron Peak Fire Updates page, we are holding periodic Town Halls for the entire extended SMC community, so that we can answer your questions in a full and transparent manner.
Thank you for being part of this community, we are grateful for your caring. We look forward to gathering with you soon.