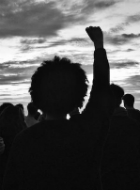 Living Radical Dharma
Rev. angel Kyodo williams, Rōshi and Lama Rod Owens
August 10–13, 2018
Tuition $250 + 3 nights
Radical Dharma is an urgent call to dharma communities to wake from the habitual ways they and their members reproduce and sustain exclusion. Radical Dharma advocates a "new dharma" that deconstructs rather than amplifies systems of suffering, and prepares us to weigh the shortcomings not only of our own minds, but also of our communities. We can only accomplish shifts in awareness through radical honesty, a common ground where we can drop our need for perfection to speak and act from a place of deep vulnerability, and authentic presence. Regardless of how unpleasant this feels or how messy this looks, Radical Dharma emerges out this kind of disarmed honesty, just as a lotus emerges from the mud.
To create a space where participants can practice radical honesty
To create a space where historically marginalized voices in American sanghas are centered
To investigate how "politics of dis-belonging" plays a role in silencing ourselves and others
To equip participants with tools that can be taken back to their practices communities to continue the work creating radically inclusive and honest communities
This retreat draws from the book Radical Dharma: Talking Race, Love & Liberation 
Program Scholarship
Shambhala Mountain Center is offering financial assistance to 5 individuals who would not otherwise be able to attend this retreat.  Learn more about the available scholarships and apply HERE.
The scholarship application deadline is August 1, 2018.
Rev. angel Kyodo williams, Sensei is a maverick dharma teacher, author, and founder of Center for Transformative Change. She applies wisdom teaching to social issues at the intersections of racial, economic and climate justice. Rev. angel notes, "Love and justice are not two. Without inner change, there can be no outer change. Without collective change, no change matters." angelkyodowilliams.com
Lama Rod Owens is an activist, poet, and authorized Lama in the Kagyu School of Tibetan Buddhism. He is a core teacher with Natural Dharma Fellowship in Cambridge, MA and has a Master of Divinity degree from Harvard Divinity School, with a focus on the intersection of social change, identity, and spiritual practice. He is the co-author of Radical Dharma: Talking Love, Race, and Liberation, and author of Love and Rage: The Path of Liberation through Anger (to be released June 16th 2020). www.lamarod.com