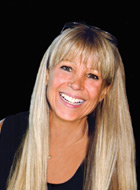 Bridges to Heaven: Grief Healing Workshop
Sue Frederick
July 18–20, 2014
Tuition $205 + 2 nights
Experience powerful ways of releasing grief and communicating with your departed loved ones. This healing retreat will draw on Sue Frederick's bestselling book, Bridges to Heaven: True Stories of Loved Ones on the Other Side (chosen as one of Aspire Magazine's top ten most inspirational books) , and share Sue's effective teachings including the Eight Essential Steps for Healing Grief and the Break Your Heart Wide Open Meditation. You will also receive personal guidance and a brief reading from Sue, a lifelong intuitive, to help you heal. At the conclusion of this powerful weekend, you will leave with direct experience of the soul presence of your departed, a fresh new perspective on your pain, and a meaningful plan for a brighter, happier future.
~~~
Watch our recent interview with Sue: Exploring Grief, Intuition, and Healing
Read these blog posts written by Sue: You're Being Blessed at this Very Moment and I Love You!