What does Compassion in Action look like?  How does it feel?  Is it something that we can experience in everyday life?  David Chernikoff helps us to understand the practice of compassion and compassionate exchange in his most recent dharma talk, Compassion in Action.
Learn more about:
How we can open our hearts in the moment,
What "negative negativity" is and how to skillfully work with it, and
How the suffering in our lives can become a gateway to deepening our compassion for others.
​David will lead

The Path of Service: An Insight Meditation Retreat, July 7 – 10 at Drala Mountain Center.  We warmly invite and encourage you to join us!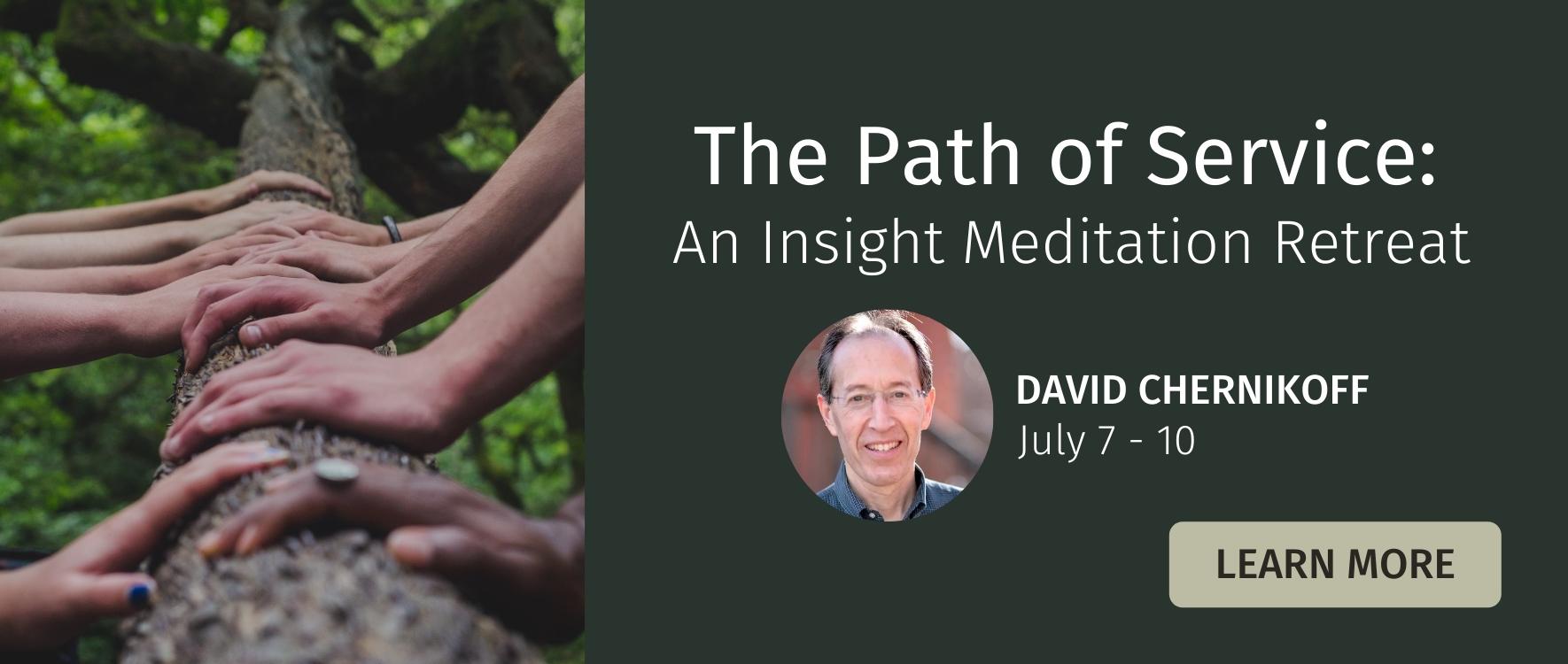 About the Author:  David Chernikoff
David Chernikoff began the study and practice of meditation in 1971 and started teaching insight meditation in 1988. He trained as a yoga teacher at the Integral Yoga Institute and completed the Community Dharma Leader program at Spirit Rock Meditation Center. His teaching has been influenced by senior teachers from the Insight Meditation Society and Spirit Rock, Tibetan teachers he studied with during a 3-year stay in Nepal, and Zen teacher Yvonne Rand.
​As someone with a longtime interest in interspiritual dialogue, David has also studied and practiced with spiritual guides from other contemplative traditions, most notably Ram Dass, Father Thomas Keating, and Rabbi Zalman Schachter-Shalomi.
He taught psychology and meditation at Naropa University for many years and worked as the education and training director of the Spiritual Eldering Institute, a conscious aging program later renamed Sage-ing International. Currently David is one of the guiding teachers of the Insight Meditation Community of Colorado (IMCC) and has a private practice as a spiritual counselor and life coach in Boulder, Colorado. He teaches workshops and retreats throughout the U.S.  David is the author of the recently released book Life, Part Two: Seven Keys to Awakening with Purpose and Joy as You Age.
https://www.dralamountain.org/wp-content/uploads/2023/05/Drala-logo-1.jpg
0
0
admin
https://www.dralamountain.org/wp-content/uploads/2023/05/Drala-logo-1.jpg
admin
2022-05-10 23:20:58
2023-05-09 13:38:35
Compassion in Action