Tending to Our Dreams: Spiritual Practices for Visionary Action

by shah noor hussein 
Often when we hear the word "dream" invoked in a social justice context, we think of waking dreams, where dream is synonymous with imagination or aspiration. As with Martin Luther King Jr.'s famous, "I Have a Dream" speech, these ambitions are invoked or co-created, while we literally awake. What happens if we consider the significance of sleeping dreams? What if we take lessons from the visions we see when we are napping or in deep slumber? 
We can think of Zora Neale Hurston, who spoke of her experiences with dream visions. In her life, Hurston at times lamented this unique gift – a chapter in Dust Tracks on the Road reveals how her childhood visions left her with a sense of isolation. She felt that others wouldn't understand these "strange things" or would see her as a "story-teller," and, yet, she believed that her dreams compelled her – "I must go where I am sent" (1942). Her conclusion seems ambiguous: "It is one of the blessings of this world that few people see visions and dream dreams." I linger on the words blessing and few, wondering if Hurston means to spare others from the alienation of such sight, or if she implies a change of heart, calling others to trust the blessings of dream visions.  In Their Eyes Were Watching God, Hurston asserts, "The dream is the truth," and, therefore, we must "act and do things accordingly" (1937). I take this to mean that dreams bear action, if we are brave enough both to see and share them. 
We can think of how Harriet Tubman, and other ancestors, traced their dreams to divine insight or mobilized their prophetic dreams to map and carry out movements for social change, like the Underground Railroad. Alexis Pauline Gumbs writes about Tubman receiving a prophetic dream that revealed to her a future where slavery had ended, after which she organized her largest ever anti-slavery action (2014). We can think of Toni Morrison who wrote "I dream a dream that dreams back at me," in her book A Mercy (2009) and marvel at how Tubman dreamed an end to slavery then made it her mission in reality. 
In our upcoming online event, we will be joined by The Arrow Journal staff for the launch of their new issue: "Undisciplined Archives: Dreaming Across Black Geographies." The essays, poetry, and artwork in this special collection open up new ways of thinking about how our rest, dreaming, and visions can fuel the work of racial justice and social change. As Dr. Naya Jones writes in the issue introduction, "Attending to dreams sourced to the Divine, ancestors, or the metaphysical, opens up Black cosmologies or philosophies of the Universe, leading to other epistemologies or ways of knowing" (2023). How do we begin this journey?
How have your dreams been inspiring you lately? Do you want to understand the calls to action, paradigm shifts, or social change your dreams demand? Register for Tuesday's event to join the conversation!
About shah noor hussein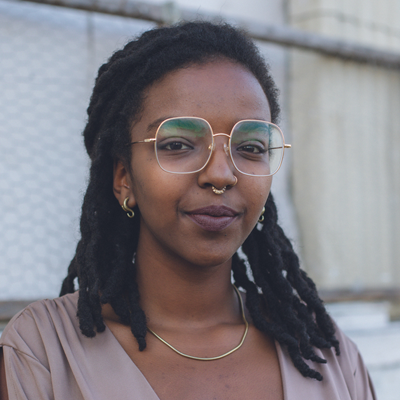 shah noor hussein (they / them) is a writer, educator, and multimedia artist crafting narratives at the nexus of Black feminist thought and Queer diaspora studies. They are a doctoral candidate and Cota-Robles Fellow in the Departments of Anthropology and Critical Race & Ethnic Studies at UC Santa Cruz. shah earned their masters in Anthropology and Social Change with a focus on queer Black feminism, liberatory pedagogy, and media production from California Institute of Integral Studies (2017). Their academic writing has been published in The Black Aesthetic Volume II, a collection of essays engaging Black art and visual media and Color Theory, an anthology of women of color reflecting on art, academia, and the non-profit industrial complex. shah's poetry has been published in Fog Lifter Press (2022), LA Review of Books (2020), Umber (2019), CUNJUH (2017), and will be featured in a forthcoming collection of Black feminist writing, When We Exhale (2023), alongside the works of Maya Angelou, Sonia Sanchez, and June Jordan. shah has studied radically inclusive dharma practices through Buddhist, multicultural, and spiritual approaches to social justice since 2014.
Join us for the Free Online Event Black Dreaming and Black Dream Geographies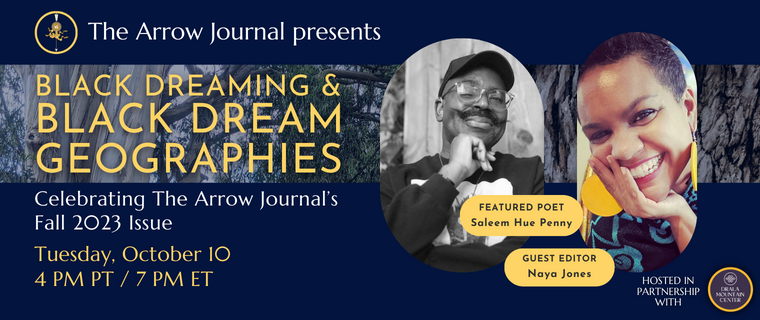 We are also delighted to bring you the following series of online events in partnership with The Arrow Journal! These events will be offered on three consecutive Monday evenings from 5-6:30 pm MT beginning October 30:
ONLINE EVENT BUNDLE – Compassionate Disruption: Three Conversations with The Arrow Journal on Applying Contemplative Wisdom to Systems Change
Power, Politics and Activism
The Dharma of Racial Justice
On Behalf of the Biosphere
https://www.dralamountain.org/wp-content/uploads/2023/10/Untitled-design-2023-10-06T172627.661.png
924
1640
Janet Pal
https://www.dralamountain.org/wp-content/uploads/2023/05/Drala-logo-1.jpg
Janet Pal
2023-10-06 15:41:04
2023-10-06 15:56:34
Tending to Our Dreams: Spiritual Practices for Visionary Action