We're in This Together: Heartbreak and Healing in Difficult Times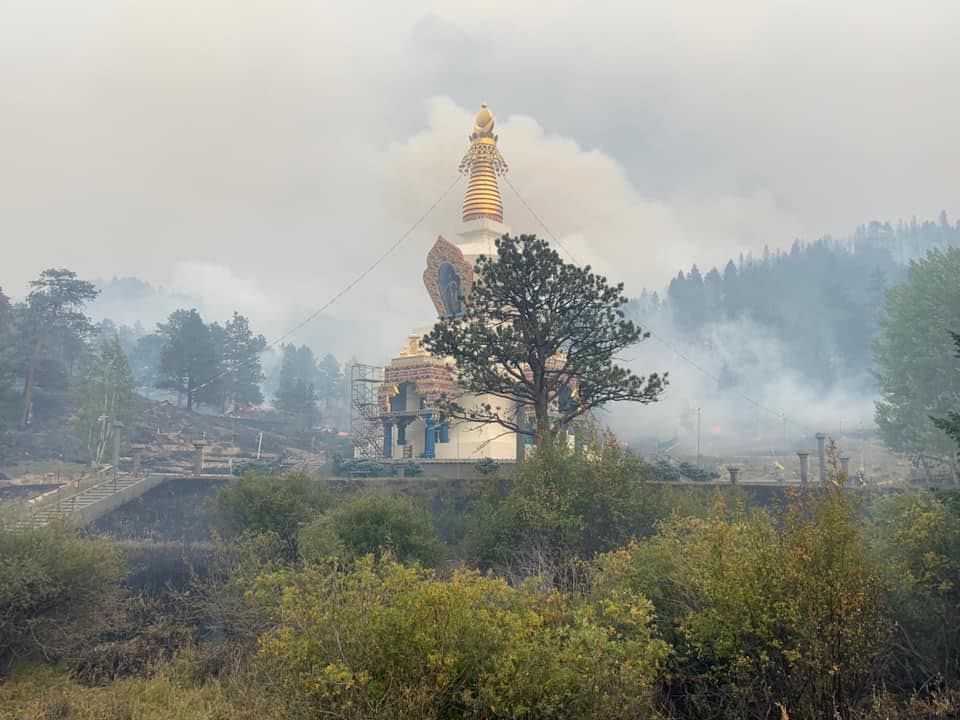 By Loden Nyima //
Published September 2020; updated December 2021 & March 2022
I wrote this article from a friend's spare room in Longmont, Colorado, back in September of 2020. I was evacuated from my home at Drala Mountain Center (DMC) due to the largest wildfire in Colorado history, which later burned portions of the land at DMC. The day of writing, I spoke by phone with a friend in California—a conversation delayed by days due to blackouts they were having in relation to record heat waves and millions of acres of fire. Afterwards, I prepared notes for a class I was teaching online due to a pandemic which has now killed over 560,000* Americans, hospitalized several of my friends, and is preventing live gatherings in shrine rooms. Our national news is filled with violence and political strife. This was life in 2020, another day in America.
Cosmic Context
We're living in what's known as a kaliyuga or a dark age in Buddhism. These are times in which the mass amalgamations of many years of actions arising from greed and over-consumption, ignorance, and aggression have co-created a world with environmental crisis, pandemic illness, resource depletion, injustice, and war. This is not new, and is bigger than us. It's been occurring for thousands of years and is only getting more intense. Likewise, the need for us to respond with wisdom, compassion, and courage has never been more urgent.  But how do we do so when we're feeling overwhelmed, scared, stressed out, furious, uncertain, isolated, grieving, defeated, or numb?  How do we even begin to heal ourselves?
Basic Goodness 
It is in fact possible for us to hold and to heal these emotions on a personal level.  This is because while we may be experiencing intense distress in relation to an intensely distressed world, our nature itself is whole and complete. DMC's founder Chögyam Trungpa Rinpoche talked about this nature as basic goodness: as a fundamental openness, wisdom, compassion, and strength of mind and heart. This is what goes all the way down.  Our problems do not.
Within intense emotions, it's our basic goodness shining through that can recognize that we're suffering, and that longs to heal. It's our basic goodness that sees harm occurring in the world and wants it to stop out of compassion. It's our basic goodness that has accommodated every bad and good situation we've ever experienced in our lives, and brought us through. It's our basic goodness that allows us to be honest about the fact that we're suffering. It was basic goodness that brought Trungpa Rinpoche through a cultural genocide, and that can certainly bring us through whatever this may bring now.  
The Self-Healing, Self-Rejuvenating Mind
To begin to heal, we have to be willing to feel pain. It's okay that we're struggling. It's okay that we're confused. It's okay that this is hard. The trick is to be soft, welcoming, and accepting about it being hard, rather than struggling against our painful emotions or following their narratives endlessly—in either case only further solidifying what is only ever as solid as we make it, and only increasing our suffering, our turmoil.  
Rather, we can hold and accept exactly what we're feeling directly as it is. We have that ability.  Trungpa Rinpoche called this "friendliness to self." We can do this by feeling our body breathing, counting a few breaths if we'd like, and unconditionally allowing ourselves to feel what we feel. Mixing our being with our breathing empowers our natural presence. Within the strength of this gentle embrace, our stuck emotions can melt and dissolve into our basically good nature. In this way our minds and hearts are self-healing, self-rejuvenating.
If the emotional energy is really stuck or intense, really frozen, we can gently explore it more closely. We can find where the emotional energy is in our bodies, welcoming it, breathing warmth into it, loving it, holding it. We can be curious about it—where is it exactly? What is it made of? Can I find the space within it? Can I breathe with it? With gentleness, curiosity, and patience, even the most stuck spots of ourselves can melt like ice into water.  
We're in This Together: Pain as a Catalyst for Compassionate Courage
We can also reflect that the very same painful emotions and experiences we're having, many people around the world are having. And as a matter of fact, many people around the world feel isolated and trapped in these feelings—just like we do.
We can recognize within ourselves, "I'm suffering right now, I'm scared, I'm angry, I'm confused—and so are many people around the world.  Many people around the world are feeling these same things, and everyone feels some form of suffering. We're in this together. May we all be free from suffering together." We can breathe with this recognition and wish.
As we do, our pain and isolation can melt into compassion and natural connectivity. A compassionate mind is a strong mind, an open mind, a whole mind. It's a mind that can handle difficult situations and respond with wisdom. It's a mind that cares for the greater good.
Openness Is Freedom; Uncertainty and Loss Can Be Doorways
We are going to lose everything we have when we die. Between now and then, the more we grasp at what we think we're in control of, the more we suffer when we find out we're not. The more we hold onto our pain and our narratives, the more we solidify what has always been fluid and transient—depriving ourselves of our birthright: an open, free mind.
Why not let go now?  The opportunity we have in times of uncertainty and loss is the opportunity to accept and allow these experiences to unfold into the natural, spacious freedom within which they arise and depart. The space within which we experience gain and loss, pleasure and pain, knowing and not knowing. The space which, like the sky, has always been accommodating sunshine and storms. The space of our innate freedom.
The more we let go, the more the natural openness and wisdom of our minds is revealed.  This can allow the clarity and resiliency we need, especially through times of turmoil.
Action and Beyond
It's from this open, compassionate, wise heart and mind that we can act most skillfully to help—and we're going to need to, because this is likely going to get worse before it gets better.  The world we have now is the world we've co-created: the future is likewise in our hands. Major trends like the climate crisis will already have devastatingly inescapable effects, but it's how we show up for each other through these that matters, and how we continue to engage in all the pragmatic ways our wisdom and compassion guide us towards which determine the extent.
Ultimately, basic goodness means we can experience freedom at any time throughout these cycles. This has been powerfully demonstrated by many great Buddhist practitioners who attained realization through the worst of what the world has to offer—and further illuminated a path of looking within. Lots of ordinary people have made it through extraordinary situations.  When we use challenges to deepen our wisdom and compassion, we go forward stronger. When we do so together, we co-create a brighter future. The rest is a matter of time.
*American deaths due to Covid are 817,000 at the end of 2021
Join Loden Nyima for these upcoming programs:
About Loden Nyima

Gelong Loden Nyima is a fully ordained Buddhist monk. He lived at Gampo Abbey from 2009 – 2017 where he practiced intensively, completed Shedra studies, and served in various roles including as a Shastri. He now lives at Drala Mountain Center where he serves as Resident Teacher and a founding faculty member for the Summer Seminar and other programs. He spends a portion of each year in retreat, frequently travels to continue his own dharma education, and can often be seen jogging around the land at DMC.
https://www.dralamountain.org/wp-content/uploads/2020/10/stupasmoke-1.jpg
720
960
admin
https://www.dralamountain.org/wp-content/uploads/2023/05/Drala-logo-1.jpg
admin
2020-09-22 20:18:12
2023-05-09 13:24:58
We're in This Together: Heartbreak and Healing in Difficult Times