Sadhana of Mahamudra Intensive
December 1–8, 2023
Buddhist Meditation Retreats, Dathun & Weekthun, Immersive Meditation Retreats, Meditation & Mindfulness, On Land Retreats, Shambhala
EARLY BIRD DISCOUNT: REGISTER BY 9/30/23 AND SAVE 25% ON LODGING ONLY* WITH PROMO CODE: SOM25
The Sadhana of Mahamudra is a seminal practice received by DMC's founder Chögyam Trungpa Rinpoche in 1968 while on retreat in Bhutan in process of bringing his dharma to the West.
It expresses a clear eyed view of the degradations our world has continued to experience in terms of environmental crisis, resource depletion, spiritual degeneration, conflict and war, and more.
As it says "This is the time of hell on earth, sadness is always with us and unceasing depression fills our minds."
And yet, the full power, potency, and blessings of the great practitioners before us remain fiercely available to help us reconnect with the sacred nature of ourselves, each other, and our world.
As it says "Although I live in the slime and muck of the dark age, I still aspire to see your face."
And about our environment, "This is the mandala which is never arranged but is always complete."
Practicing the Sadhana of Mahamudra is a journey into the wisdom of our lineage ancestors inseparable from our own, and of cutting through the materialistic forces which impede that.  The main figures are Dorje Trolö and Karma Pakshi inseparably, who also express the union of the Nyingma and Kagyu lineages Trungpa Rinpoche held and taught.
During this practice intensive, we will practice the sadhana multiple times a day, as well as formless meditation inspired by it, morning and evening chants.  We'll also have talks on the sadhana, study of Trungpa Rinpoche's transcripts of teachings, group discussions, and more.
This practice intensive is appropriate for established meditation practitioners in Trungpa Rinpoche's teachings from any community based on them or with any of his authorized lineage holders, or for established Vajrayana practitioners from any lineage who are interested in this practice.  This context and background is essential for the practice.  If you're seeking an introduction to meditation or Buddhism, we warmly welcome you to our Path of Meditation programs, and/or encourage you to explore a local community in your area.  If you have questions about whether this intensive is the right fit or not, please feel free to reach out to Loden at loden@dralamountain.org
EARLY BIRD DISCOUNT: REGISTER BY 9/30/23 AND SAVE 25% ON LODGING ONLY* WITH PROMO CODE: SOM25
*Discount applies to lodging only. Not valid with other offers. Expires 9/30/23.
Please review and understand DMC's current COVID-19 policy before visiting DMC.
Retreat Faculty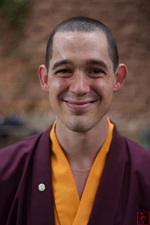 Gelong Loden Nyima is a fully ordained Buddhist monk. He lived at Gampo Abbey from 2009 – 2017 where he practiced intensively, completed a cycle of advanced studies (Shedra), and served in various roles including as a senior teacher. He now lives at Drala Mountain Center where he serves as Resident Teacher and a founding […]