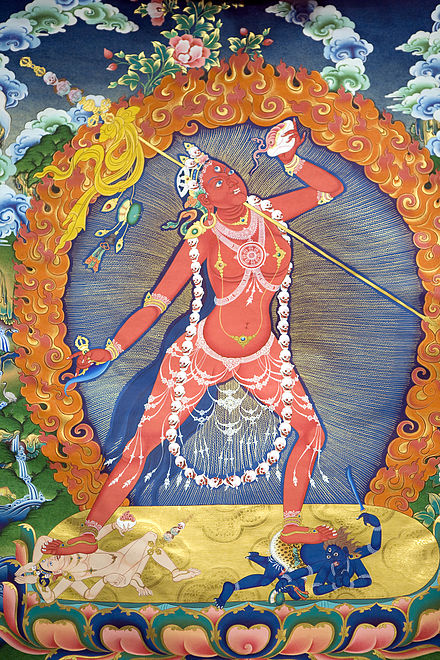 By Lama Alta Brown
The visualizations that are an essential part of Chod practice are by some considered not only exotic but outrageous. As Khenpo Jigme explained, Chod was not taught until the end of the three year retreat at the Vajra Vidya Monastery because it is so easy to misunderstand the meaning of those forms of symbolism. It is particularly difficult to understand how visualizations that figure a buddha cutting up your visualized body can produce the signature manifestation of Chod, which is bliss. Vajrayogini cuts off your visualized head and creates it as a skull cup in the first part of what is called The White Feast. It is hard to understand how that is related to bliss. Be that as it may, among the three ways in which enlightened experience can manifest, namely, bliss, clarity, and emptiness, Chod is the quintessential bliss practice.
It is reasonable to ask how bliss figures into such a violent scenario. The answer to this question is that it is possible through the practice of powa. The White Feast is only possible because Vajrayogini offers this feast and she manifests through the practice of the "Long Powa" which is usually called Opening  the Door to Space. This powa is actually a form of tummo. It is not the form that is a part of the  practices of the Six Yogas of Naropa. It involves a different structure, but it produces the same four  kinds of joy. The White Feast is introduced by the "Long Powa", at the culmination of which  Vajrayogini presents herself as the enlightened form of one's own mind.
There are three principle kinds of powa that create the foundation of Chod and are responsible for bliss. Unfortunately, bliss has something of a bad reputation. It is often associated with "blissed out" as in  "California bliss". This is not that kind of bliss. In the next blog, I will explain what this bliss is, and  how it is directly responsible for the compassion with which Chod is identified.
Join Lama Alta this August to learn more about Chod practice, or as part of the Mahayana Summer Seminar!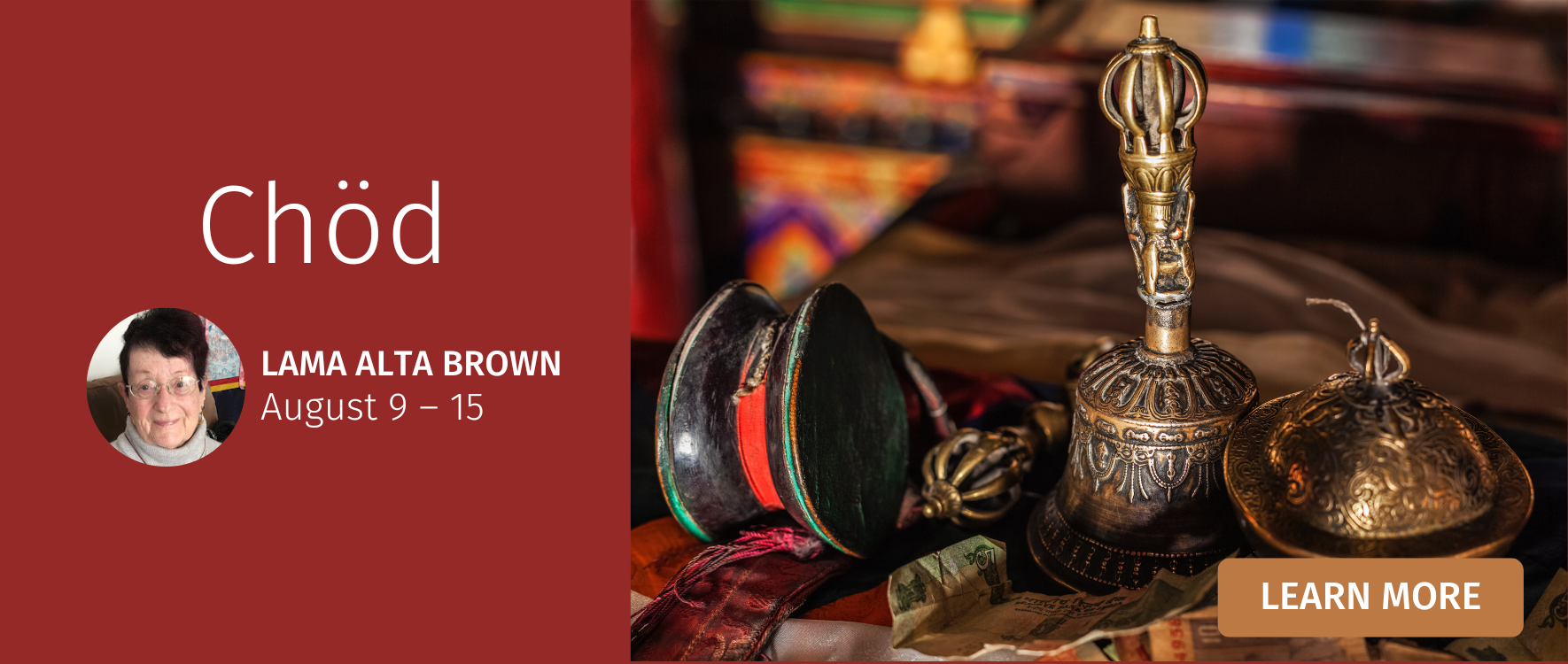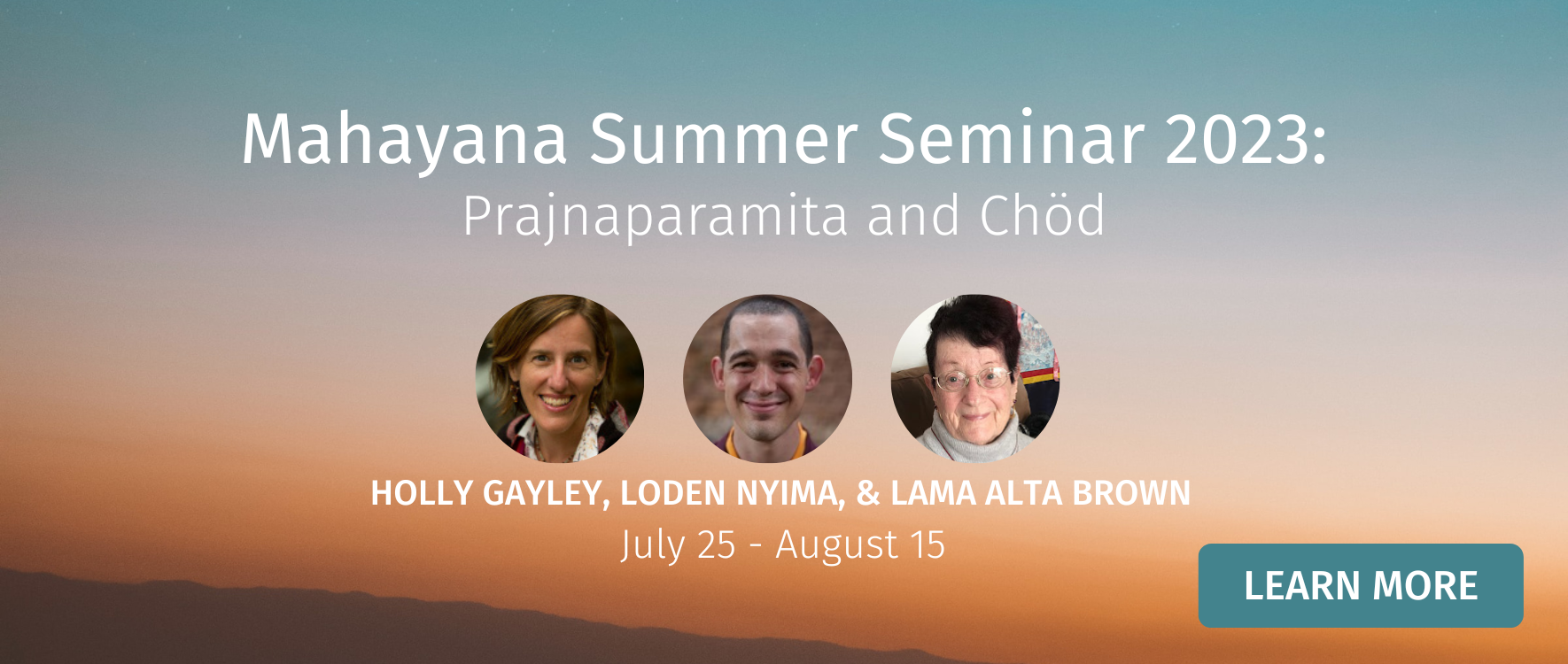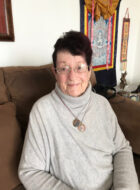 When Trungpa Rinpoche arrived in Boulder CO, Lama Alta immediately connected with him and studied as his student. After Trungpa died she studied, and continues to study, with Khenpo Tsültrim Gyamtso, Khenchen Thrangu Rinpoche and Dzogchen Ponlop Rinpoche. She was introduced to Chöd by Khenpo Tsültrim at the monastery in Pullahari, Nepal. He supervised her practice while she did an individual 3-year Chöd retreat. Eventually, he began to send her students. She has been practicing Chöd since 1996 and has been teaching this practice since 1999.
Dr. Brown completed her doctoral work at the University of Southern California, specializing in Buddhist Ethics. She wrote her dissertation on Mediation as a Bodhisattva's Practice of Peace. She subsequently taught at the University of California at Berkeley through The Graduate Theological Union where she emphasized aspects of Buddhist ethics. She also taught for The Semester in India program through Antioch University and, for five years, taught weekend retreats through The Immaculate Heart college center at The Retreat Center La Casa De Maria. Dr. Lama Alta Brown currently leads an international Chöd sangha. Much of her training in compassionate activity developed out of her experience as the mother of six children.
https://www.dralamountain.org/wp-content/uploads/2023/05/Vajrayogini_from_Thangka.jpeg
660
440
admin
https://www.dralamountain.org/wp-content/uploads/2023/05/Drala-logo-1.jpg
admin
2023-04-05 13:42:03
2023-05-09 15:49:49
VISUALIZATIONS IN CHOD