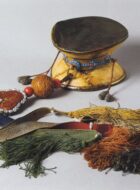 Chöd
Dr. Lama Alta Brown and David Soucy
August 9–15, 2023
Tuition $0 + 6 nights
Registration requires completion of a questionnaire, please see Application section further down the page for link to questionnaire.
lThe English Version of the Surmang Chöd
Chöd is a practice of compassion. As Vajrayogini, meditators offer the visualization of their body to the beings they invite to three feasts. The feasts are the activity of the Buddha Vajrayogini. Through her activity, the energies of the "god-demons" are transmuted. The demons, whether negative emotions, illness, or hostile beings in other realms, are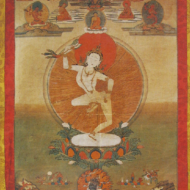 transformed into companions and friends. This is the ultimate practice of generosity. This is the magic of compassion.
This compassionate activity is so effective that it has been used for many centuries to heal mental illness in Tibetan communities. During periods of pandemic it was the Chöd practitioners who ministered to the sick and dying. You can learn more about Chöd practice at EverydayChöd.com.
Chöd is also a Mahamudra practice. It can be practiced from the perspective of mahayana or vajrayana. For this reason, mahayana practitioners and vajrayana practitioners can practice together in the same practice situation. These two groups will simply have different kinds of experiences. Both are welcome, provided they have taken Bodhisattva Vows or are willing to take them at the retreat. 
Covid Mitigation
DMC and the teachers are committed to the health and well-being of all involved in this retreat. As COVID mitigation is a dynamic situation given new variants and developing treatments, we will determine our retreat protocols in consultation with medical professionals as the time of the retreat draws near. We will communicate those protocols in advance of the retreat. We can share now that the retreat is scheduled to be held in an open-air tent, which we hope will preclude a need for masking during talks, discussions, and meditation practice.
Please note that the retreat's ultimate mitigation protocols may be stricter than DMC's center-wide protocols in place at the time of the retreat. Accordingly, during the retreat you may come into contact with others who are not subject to the same protocols. Please keep this in mind if you select a shared housing option.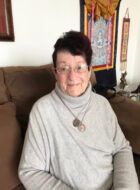 When Trungpa Rinpoche arrived in Boulder CO, Lama Alta immediately connected with him and studied as his student. After Trungpa died she studied, and continues to study, with Khenpo Tsültrim Gyamtso, Khenchen Thrangu Rinpoche and Dzogchen Ponlop Rinpoche. She was introduced to Chöd by Khenpo Tsültrim at the monastery in Pullahari, Nepal. He supervised her practice while she did an individual 3-year Chöd retreat. Eventually, he began to send her students. She has been practicing Chöd since 1996 and has been teaching this practice since 1999.
Dr. Brown completed her doctoral work at the University of Southern California, specializing in Buddhist Ethics. She wrote her dissertation on Mediation as a Bodhisattva's Practice of Peace. She subsequently taught at the University of California at Berkeley through The Graduate Theological Union where she emphasized aspects of Buddhist ethics. She also taught for The Semester in India program through Antioch University and, for five years, taught weekend retreats through The Immaculate Heart college center at The Retreat Center La Casa De Maria. Dr. Lama Alta Brown currently leads an international Chöd sangha. Much of her training in compassionate activity developed out of her experience as the mother of six children.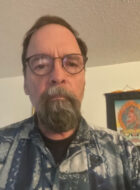 David Soucy has a BA in Sociology from Rutgers (1970) as well as an MA in Contemplative Psychotherapy from Naropa (2006). He has a long time (50 yrs) interest in comparative religion esoteric practices and has been a Chod practitioner for 10 yrs. He has studied Modern Psychoanalysis at CCMPS and has worked with patients in extreme states.