In the Charnel Ground and Chöd: Two Poems

By Lama Alta Brown
In the Charnel Ground
On the way
to the charnel ground,
my heart beat hard
at my throat.
But it was clean
there
and spare.
Small stone piles
marked the ashes.
The afternoon sun was very bright,
and the air was empty.
When I called the beings without
bodies,
I was ready
for any terrifying thing:
anything dark and fanged,
anything contorted and ugly,
anything with long, sharp claws
and bulging eyes.
I was ready to hold my seat
if anything settled down around me.
But, instead,
in the shade where I sat singing,
the sun rose behind my eyes.
And I was shyly, gently
welcomed
into joy
and the unseen sight,
the shine, of beings made of light.
Is this the real secret,
Rinpoche,
that
at the edge of death,
night falls off into
light?
Chöd
I surfaced yesterday,
head above water,
not even gasping for breath.
And it was bright everywhere.
I don't remember when the dark time
began–
it was always dark in the background,
at the edges of my vision.
There were fierce faces there
that peered at me when I closed my
eyes
to wash my hair.
At night, if I passed a mirror,
I was afraid to look for fear my dead
face
would stare back at me.
And the demons came at night,
closets of corpses, dead hands that
grabbed my ankles,
as I walked across dark, dream plains.
I often simpered and "made the best of
things"
then,
my voice was high and frightened,
always placating, I was always alert to
possible depredations–
watchful, alarmed.
Now I call the demons,
and they come.
I tell them to honor the feat of the
frightened ones,
and to protect them.
I call the demons,
and I feed them my heart's blood,
my heart, swollen, sweet and shining.
I can sing now,
and shout with joy.
Join Lama Alta Brown at DMC this summer!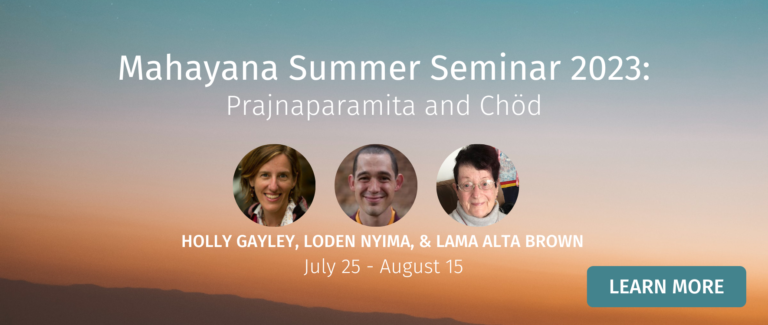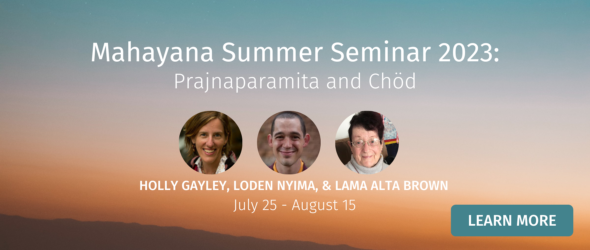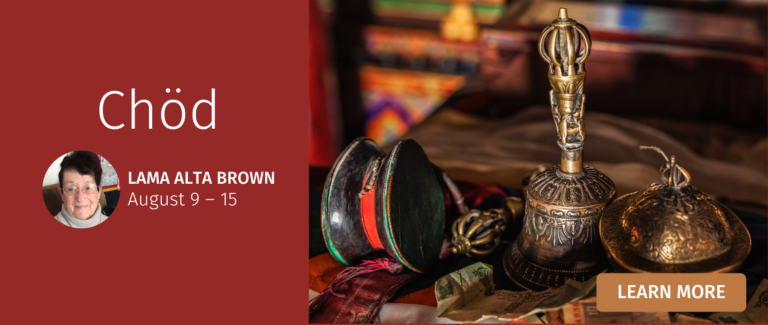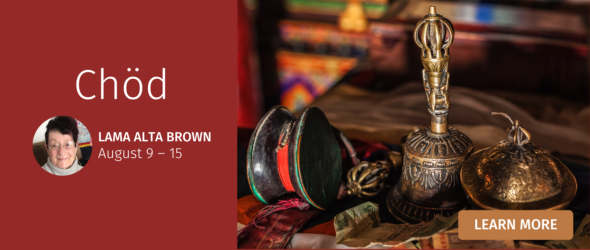 About Lama Alta Brown

When Trungpa Rinpoche arrived in Boulder CO, Lama Alta immediately connected with him and studied as his student. After Trungpa died she studied, and continues to study, with Khenpo Tsültrim Gyamtso, Khenchen Thrangu Rinpoche and Dzogchen Ponlop Rinpoche. She was introduced to Chöd by Khenpo Tsültrim at the monastery in Pullahari, Nepal. He supervised her practice while she did an individual 3-year Chöd retreat. Eventually, he began to send her students. She has been practicing Chöd since 1996 and has been teaching this practice since 1999.
Dr. Brown completed her doctoral work at the University of Southern California, specializing in Buddhist Ethics. She wrote her dissertation on Mediation as a Bodhisattva's Practice of Peace. She subsequently taught at the University of California at Berkeley through The Graduate Theological Union where she emphasized aspects of Buddhist ethics. She also taught for The Semester in India program through Antioch University and, for five years, taught weekend retreats through The Immaculate Heart college center at The Retreat Center La Casa De Maria. Dr. Lama Alta Brown currently leads an international Chöd sangha. Much of her training in compassionate activity developed out of her experience as the mother of six children.
https://www.dralamountain.org/wp-content/uploads/2023/06/Sunset-Over-Land-Trees-scaled.jpg
1707
2560
Janet Pal
https://www.dralamountain.org/wp-content/uploads/2023/05/Drala-logo-1.jpg
Janet Pal
2023-06-29 13:38:16
2023-06-29 14:15:43
In the Charnel Ground and Chöd: Two Poems