By Judith Simmer-Brown
During the academic year 1988-89, my family and I lived in Bodhnath in the Kathmandu Valley, just outside of Kathmandu. Our home was adjacent to the powerful Bodhnath Stupa, one of the most sacred pilgrimage sites of the Himalayans. We joined the vibrant Tibetan refugee community that practiced there every day, circumambulating early in the morning and in late afternoon, reciting prayers and mantras or just socializing with friends. Sometimes we sat quietly inside one of the tiny lamp-lit shrines. Our Tibetan friends embraced our baby son and us, sweeping us along with them as they walked and introducing us to everyday devotional practices of the Valley.
Invisible Waves of Blessings
These months of practice deeply influenced my understanding of what is called adhishthana, the Sanskrit word for blessings (Tibetan, jinlap). The word comes from the Indian sutras that speak about the powerful atmosphere generated by the enlightened mind of the Buddha, creating a kind of force-field that made it possible for practitioners to ripen spontaneously as they absorb non-conceptually the transmissions of the Buddha's body, speech, and mind. It was of course not just the Buddha who created this atmosphere. We could see daily in Nepal how enlightened teachers did the same. These invisible waves of blessings are described as generated by a glance or gesture, a word or mantra, or especially by the vast and kind mind of enlightened teachers. And the community of Bodhnath practitioners resonated, creating a mandala that strengthened the experience of sacredness for everyone.
Continuing the Blessings of the Buddha
Stupas were created in early Buddhism to continue the blessings of the Buddha and enlightened teachers, carrying their physical presence into a timeless space of sacredness. Wherever they are built, these stupas become centers of devotional practice, community connection, and access to the vast blessings of our teachers. In that year in Nepal  — just after the passing of the Vidyadhara — Bodhnath stupa became a direct way for me to connect with his blessings and with the blessings of all of his lineage streams. That year Sakyong Mipham was also in Nepal, training with HH Dilgo Khyentse Rinpoche, and he incorporated practice at the Stupa in his training. Through my sadness and desolation at the loss of my guru I found direction and sustenance through connecting with the stupa and the Bodhnath community.
Stupas Need Our Practice and Devotion
Since that time, our sangha lovingly built and created our own remarkable and sacred Stupa to honor the Vidyadhara and the Shambhala and Tibetan Buddhist lineages that have supported our practice. But sometimes we treat the Stupa as a museum or curiosity, a relic of the past, not realizing its present power to directly connect us to timeless and vast blessings. Stupas need our practice and devotion to remain vital links to our teachers and lineages, and there are many ways for us to connect. I invite you to join me in circumambulating, meditating, and making offerings in our Stupa to reinvigorate our palpable sense of connection and blessings.
Join Judith this September!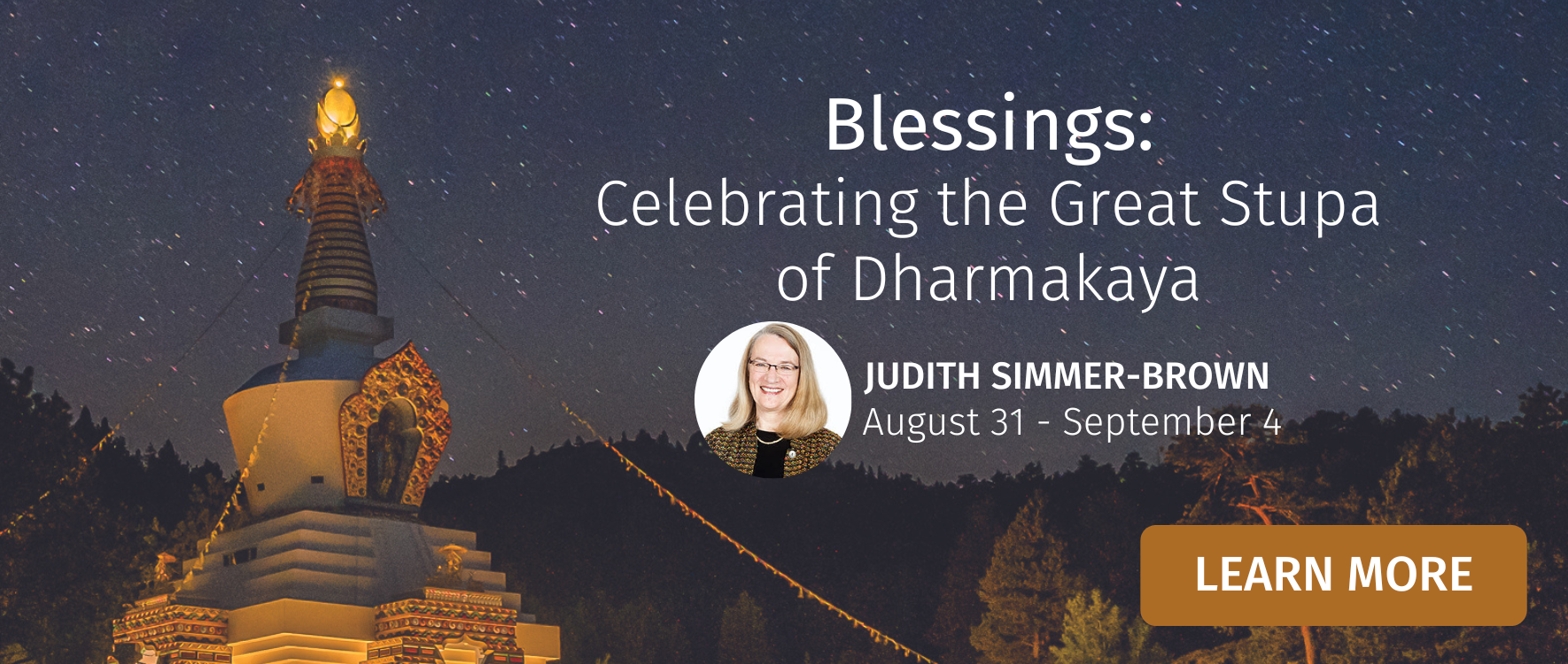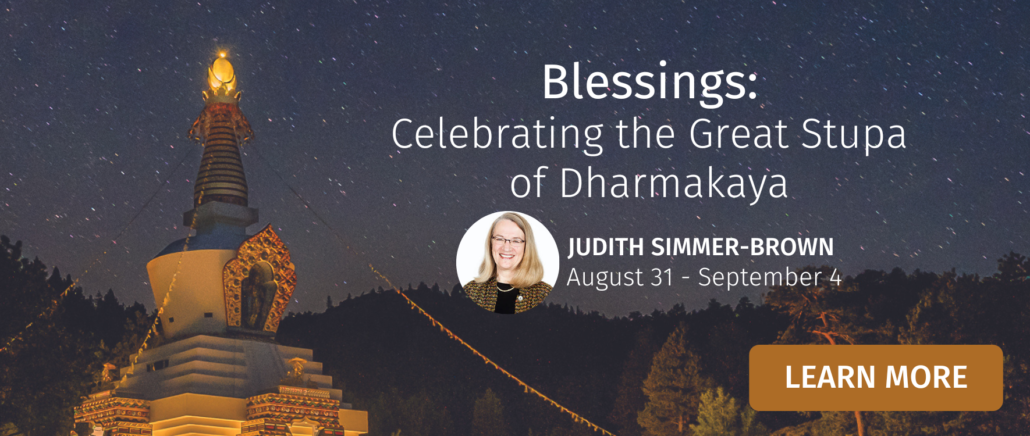 About Judith Simmer-Brown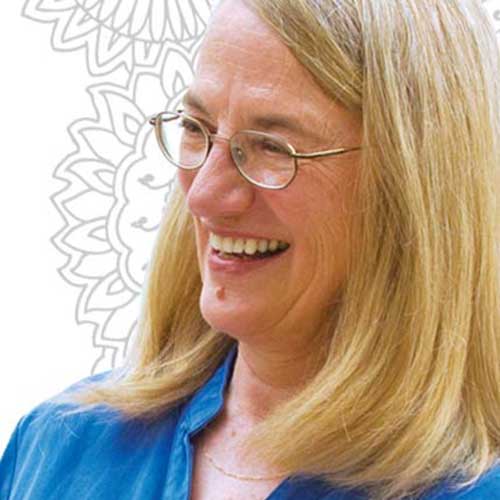 Judith Simmer-Brown, Ph.D., has just retired as Distinguished Professor of Contemplative and Religious Studies at Naropa University in Boulder, Colorado, where she has taught since 1978. As Buddhist practitioner since the early 1970's, she became a student of Chögyam Trungpa Rinpoche in 1974, and served as an acharya from 2000-2022.. Her teaching specialties are meditation practice, Shambhala teachings, Buddhist philosophy, tantric Buddhism, and contemplative higher education. Her book, Dakini's Warm Breath (Shambhala 2001), explores the feminine principle as it reveals itself in meditation practice and everyday life for women and men. She has also edited Meditation and the Classroom: Contemplative Pedagogy for Religious Studies (SUNY 2011). She and her husband, Richard, have two adult children and three grandchildren.
https://www.dralamountain.org/wp-content/uploads/2014/09/IMG_0061.jpg
353
1280
admin
https://www.dralamountain.org/wp-content/uploads/2023/05/Drala-logo-1.jpg
admin
2022-08-02 17:12:14
2023-06-09 16:24:56
Connecting to Blessings