Connecting to Blessings II

By Judith Simmer-Brown
As Buddhist practitioners, daily we recite prayers and supplications (soldep) that bring down blessings of the lineage of teachers into our everyday lives.  While often we may chant these somewhat automatically or mindlessly, when we pay attention to the words of these Tibetan and Sanskrit chants we see that they convey the essence of the dharma to us.  They invite a steady rain of the core teachings, subliminally reminding us of the purpose of our practice.
In our soldep recitations, we name the ancestral lineage holders who have awakened to the true nature and we ask them to pass on their blessings to us.  We remind ourselves of the view of basic goodness and wakefulness that we may forget in the midst of things.  We revisit the practice instructions and glimpse the fruit that comes from practice.  All these renew our inspiration and vows and seal our connection with the dharma.
Blessings rain down not only through supplications, but also through practices of meditation, devotional mantra recitation, and circumambulation.  The Great Stupa of Dharmakaya is the ideal setting to connect with these practices and tune into the vast broadband of blessings of our lineages. The relics of the Vidyadhara are enshrined there and carry powerful promise that enlightenment is real, that he indeed achieved it, and that his enlightenment is still emitting "waves of blessing" (adhishthana, jinlap) that we can actually feel right here and now.  When I first learned the true meaning of adhishthana, I realized I finally had a word to express something I thought was inexpressible–the palpable wordless presence of enlightened teachers that touched my heart and stopped my mind.  The Stupa is waiting for us to come and tune into those blessings.
Yet it isn't just Buddhist blessings that are available at the Great Stupa and Drala Mountain Center.  When we tune into these channels, we begin to experience the dralas of the natural world of trees, rocks, mountains and valleys.  We resonate with the sacred indigenous peoples who have called these mountains home over the centuries and with their enduring covenant with the earth.  We experience the shamanic qualities of sacred landscape that the Vidyadhara recognized when he first visited this broad valley.
Our relationship with the sacred land of Drala Mountain Center will founder if we do not reconnect with the lineage blessings of the Great Stupa and the land.  Whatever your connection with this stunning landscape and environment may be, please come and refresh it in a joyful and diverse practice community.  We will attune to blessings together.
Join Judith later this summer!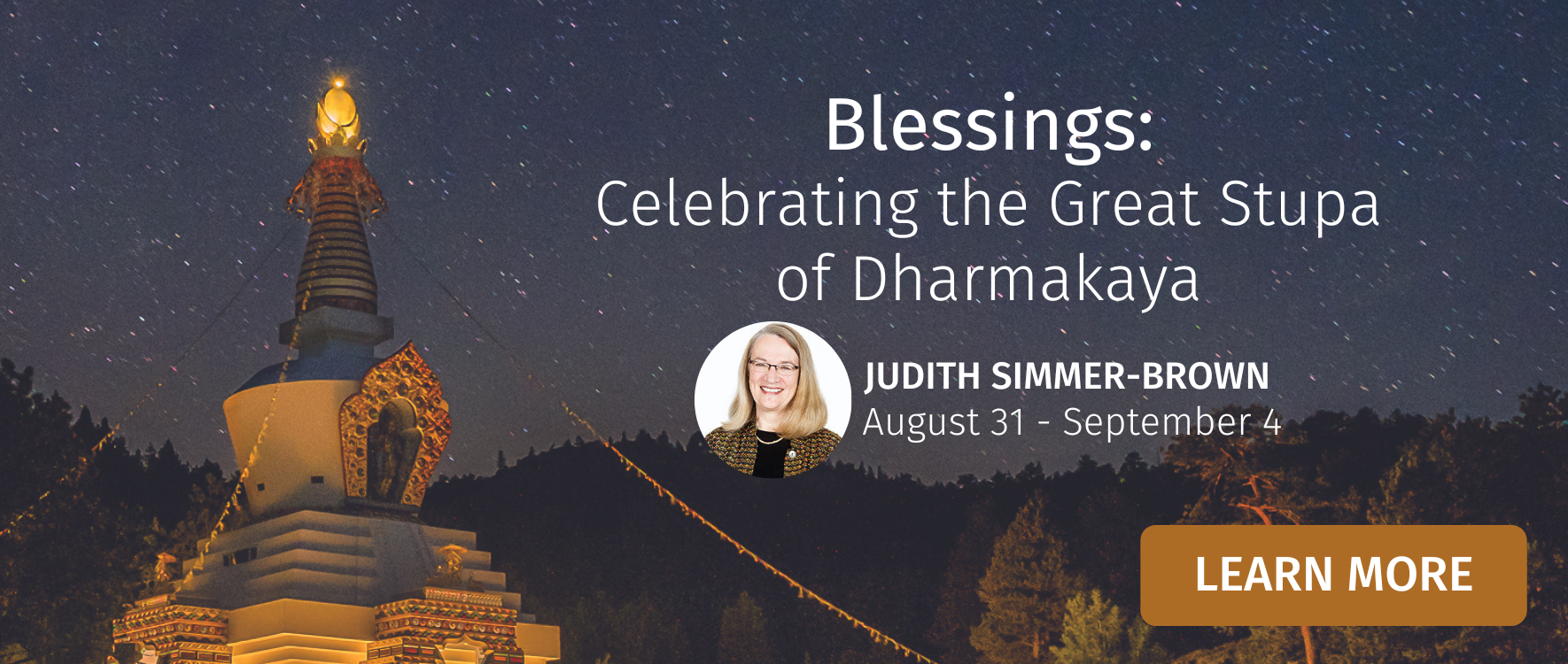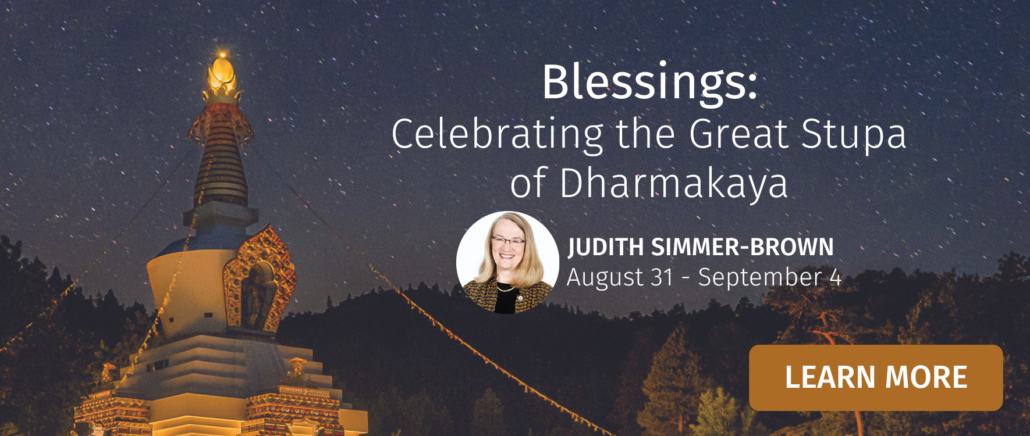 About Judith Simmer-Brown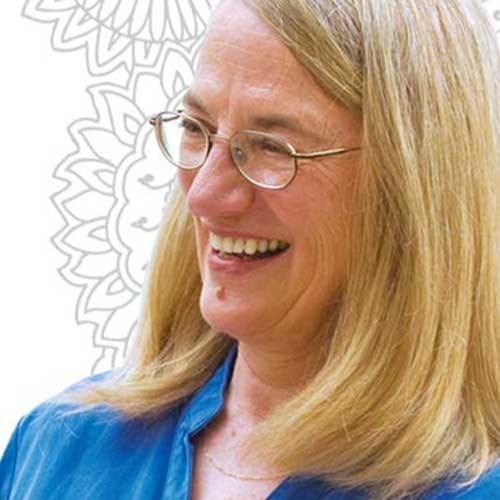 Judith Simmer-Brown, Ph.D., has just retired as Distinguished Professor of Contemplative and Religious Studies at Naropa University in Boulder, Colorado, where she has taught since 1978. As Buddhist practitioner since the early 1970's, she became a student of Chögyam Trungpa Rinpoche in 1974, and served as an acharya from 2000-2022.. Her teaching specialties are meditation practice, Shambhala teachings, Buddhist philosophy, tantric Buddhism, and contemplative higher education. Her book, Dakini's Warm Breath (Shambhala 2001), explores the feminine principle as it reveals itself in meditation practice and everyday life for women and men. She has also edited Meditation and the Classroom: Contemplative Pedagogy for Religious Studies (SUNY 2011). She and her husband, Richard, have two adult children and three grandchildren.
https://www.dralamountain.org/wp-content/uploads/2023/07/Stupa-Bright-Starry-Night-Sky-scaled.jpg
1707
2560
Janet Pal
https://www.dralamountain.org/wp-content/uploads/2023/05/Drala-logo-1.jpg
Janet Pal
2023-07-04 10:21:42
2023-07-04 10:23:10
Connecting to Blessings II