Wildfire Resilience Initiative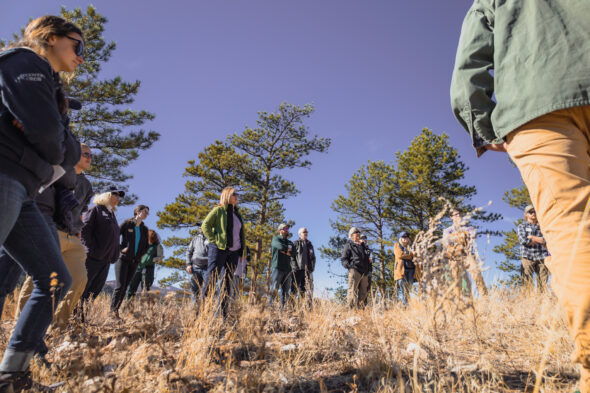 We are delighted to report that, with funding from the BESS and Lenz Foundations, we are developing a retreat for wildland firefighters in 2023. This program will support wildland firefighters by providing a place for them to gather, heal and build resilience after a tour of duty.
[Top photo: Fireshed field tour at Drala Mountain in 2021. Photo by Jake Marlow]
For 51 years, Drala Mountain Center has been a presence in rural northern Colorado, where we steward a property of more than 600 acres, hosting meditation retreats and programs from an array of Buddhist teachers and other wisdom traditions.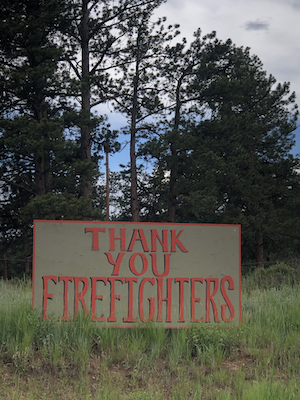 A wildfire here in 2012 forced evacuation and loss of summer revenues. More recently, we lost eighteen structures in the Cameron Peak Fire of 2020, the largest in Colorado's history at the time. 
The National Interagency Fire Center reports there have been nearly 41,875 wildfires to date in 2022, with roughly 5.9 million acres burned. There have been 20 line-of-duty deaths in 2022 so far, including 27-year-old Collin Hagan, a firefighter based in Craig, Colorado, who died on August 10th fighting the Big Swamp Fire in Oregon. 
We know too well the devastating effect of wildfires. We have actively worked to mitigate their impact with our eco-forestry initiatives and partnerships with conservation groups, which have earned us recognition from local and national organizations. The response to the fire by the DMC community has been amazing, supportive, and healing. We seek to share our wealth of support more widely, to acknowledge the trauma caused by fire and other climate disasters, and provide a place where people can come together to heal and build resilience.
"When you live in a burn area, the burn scars live on for years as a constant reminder of the loss and the threat of floods and future fires. It becomes a longstanding feature of the environment. Particularly in a rural area, there's not much in the way of community processes or support for dealing with the depression and trauma that can continue long after the event"  says Alyssa Graziano, DMC Land Steward and long-time Red Feather Lakes resident.
Taking a Long-Term View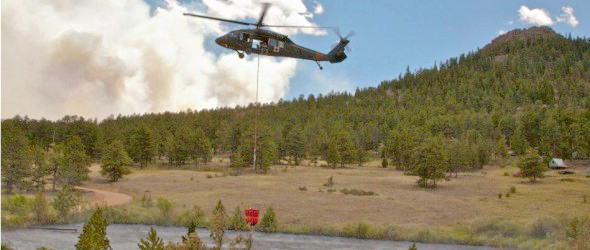 Firefighting helicopter retrieves water from DMC's Lake Shunyata to combat a blaze in nearby Poudre Canyon area. 
Offering Tools to Support Firefighters
Our support initiative focuses primarily on Firefighters and Frontline Workers. As fire seasons intensify, the chronic stress involved in controlling them is harming the mental health of wildland firefighters and those who work in organizations charged with mitigating fire danger. We have met with firefighters who were at DMC fighting the Cameron Peak blaze and we know – and have seen evidence – of the incredible heroics of the firefighters here that evening. Fire clearly burned within feet of many of our buildings, which would have been lost if not for the efforts of the firefighters. We realize the impact that this very high-stress work can have on an individual. We seek to create a program that offers therapeutic techniques, mindfulness practices, and programs that illustrate the principles of eco-dharma. Social support is well documented as a factor in resilience in firefighters, both in the workplace and at home. We will craft a program that offers chances to practice in nature, introduce and clarify the ecological implications of the Buddhadharma, and, using that understanding, offer tools that can support firefighters as they continue their work across the country. 
A Container for People to Gather and Process Their Experience
In the future, our work may expand to include Climate Advocates and Wildfire Survivors. Eco-warriors can suffer burnout, disillusionment, and anger when confronting the status quo and deniers. We will bring passionate advocates together for meditation practice, mutual support, and developing strategies for overcoming shared challenges. For people who have lost loved ones, homes, jobs, and property as a result of wildfire or other climate-related catastrophe, we will offer a container for people to gather and process their experience, with dharma talks, meditation instruction, mindfulness practices, and opportunities for dialogue with other survivors. We can grieve together and cultivate resilience in the face of future challenges. 
This is a new initiative that will commence in October 2022 with a needs assessment of the groups we plan to serve.  Through meditation, exploration of the dharma, working with difficult emotions and being in community with others, Drala Mountain Center can support the resiliency of wildfire firefighters, climate activists and individuals recovering from wildfire damage.
Our aim is to build the program into an annual event with ongoing opportunities to connect online in between. The initial focus on wildfires could be expanded to include other forms of climate-related disaster in the future. Participants will be invited to extend their stay at no charge for volunteer work on trail repair, our greenhouse, and other activities related to DMC's eco-forestry and permaculture projects. 
Let us know your thoughts in comments. We'd love to hear from you!
https://www.dralamountain.org/wp-content/uploads/2023/05/FireshedFieldTour2021.Jake-Marlow-590x393-1.jpeg
393
590
admin
https://www.dralamountain.org/wp-content/uploads/2023/05/Drala-logo-1.jpg
admin
2022-10-06 05:13:11
2023-11-27 01:23:38
Wildfire Resilience Initiative