SMC's Award-Winning Eco-Forestry Work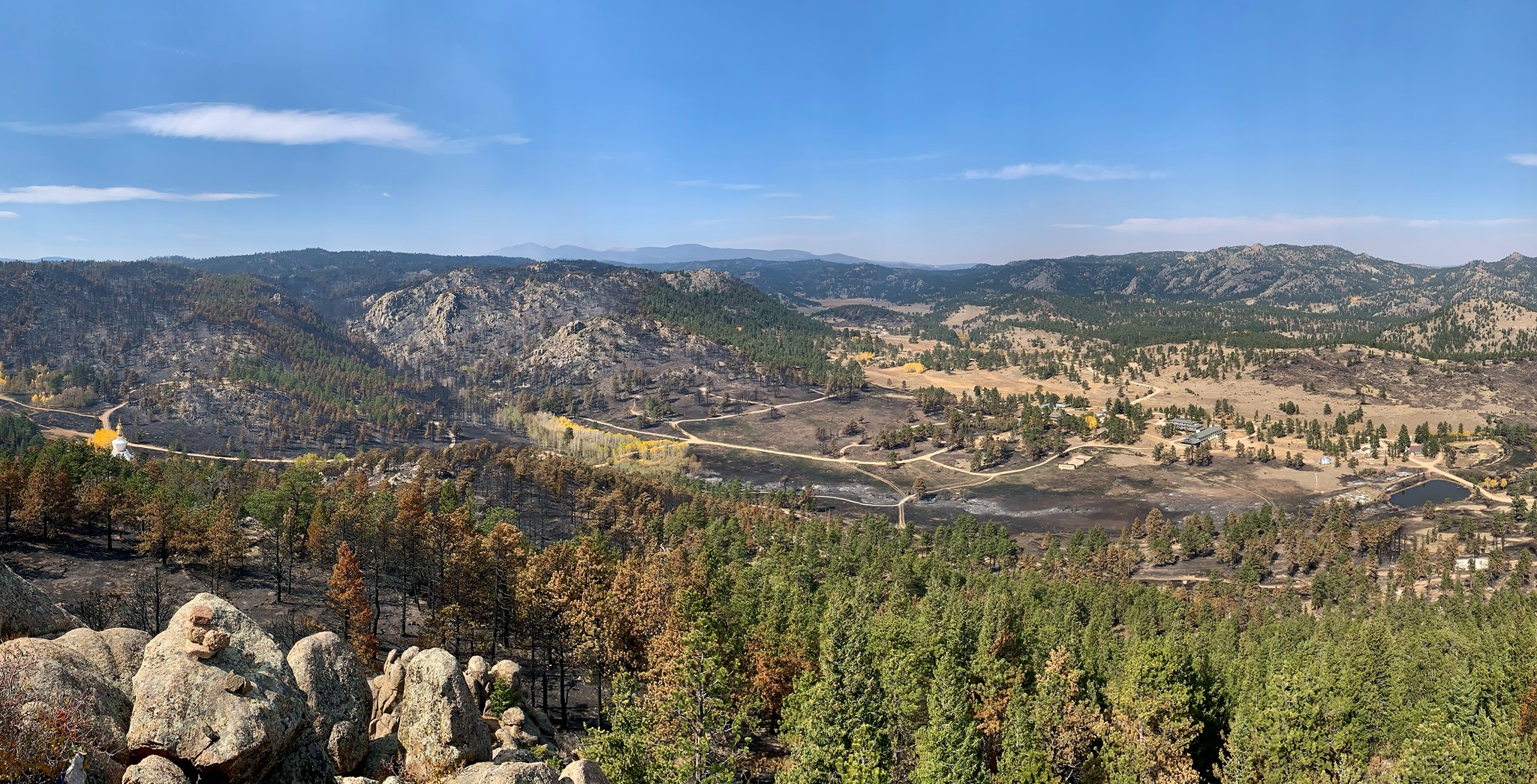 by;  Dhi Good & Mac McGoldrick     ///     photo:  Miles Greenlee
Stewardship of the land is an important priority for Shambhala Mountain Center. Under the direction of our Built and Natural Environments Director, Mac McGoldrick, SMC conducts conservation forestry projects and collaborates with regional partners to sustain healthy and resilient eco-systems across our 600 acres and beyond.
In the video below, Mac McGoldrick describes the eco-forestry and conservation work at SMC in partnership with regional conservation agencies. Thank you Fort Collins Conservation District for this beautiful video!
The 600-acre SMC property provided an excellent example of the positive outcomes strategic forest treatments can produce. Because of the 165-acre fuels reduction treatment completed on the property in 2018, as well as several years of adjacent treatments continuing along Elkhorn Creek to the east, firefighters working on the Cameron Peak Fire of 2020 were safer, the forest burned less intensely in this area, and post-fire outcomes were less severe.  Northern Colorado Fireshed Collaborative, Nov. 12, 2021
---

Above:  Fireshed partners and community members gather at Shambhala Mountain Center to learn about forest restoration work. Photo: Jake Marlow
---
State and National Leaders Visit SMC to Honor Our Conservation Work
May 2021
Letter to Staff by Mac McGoldrick
I'd like to share some good news with you all. As you (likely) know, over the last 3 or 4 years SMC has made a concerted effort to cultivate strong relationships with a wide array of partners, especially in the area of land stewardship. These partnerships have led to a significant amount of important work that is creating the circumstances of health, capacity, and resilience on our land, and in our larger eco-system.
In particular, our forestry work has gained international and regional recognition.  In 2019 we were awarded the Larimer County Land Stewardship Award to celebrate our Phase I forestry work.  (If you recall, in 2018 we completed a conservation forestry project that treated 125-acres in an effort to restore forest health.  We're beginning Phase II of that work next week.)
The success of how we managed that project, executed it, and in recognition of the wide partnerships we cultivated (regional conservation districts, National Resource Conservation Service, US Department of Agriculture, National Forest Service, Colorado State Forest Service, Colorado State University, University of Colorado, Front Range Community College, The Coalition for the Protection of the Poudre Valley Shed, and others), we had the honor of hosting a group of visitors who wanted to learn more about the work on our land, our partnerships, and about SMC.  We gathered at SMC for about 2-hours this morning.
That group of visitors included: CO Governor Jared Polis, Senator Michael Bennett, Congressman Joe Neguse, (Cabinet) Secretary of Agriculture Tom Vilsack, the director of the US Forest Service (the Federal leadership and the State Leadership), Director of Colorado State Forest Service James White, and a host of regional forestry partners.  We all sat on the hill above SMC on the north side of the property and discussed forestry, water shed protection, and the science of conservation work. This, perhaps obviously, also included a lot of discussion about the Cameron Peak Fire. The work done at SMC, in conjunction with work done by USFS, Delatour Ranch, and other land owners in the area of the fire, was recognized as an exemplar of conservation, and recognized for the huge impact that work had on containing what was an out of control fire. When the fire swooped in over the ridge onto SMC property the fire was so hot, and so unpredictable, that fire fighters had to fall back.  But, they soon realized that the fire was headed into our treated areas and they contained and put the fire out in those areas. Director of the Colorado State Forest Service (James White) literally took his hat off to salute SMC.
I spoke to the group for about 15 minutes and had a conversation with the Governor, Senator, Congressman, and Secretary, about our work, about SMC, and about our sacred land.  I discussed our focused efforts to treat our land as a holistic living system, and how our approach seeks to blend the spiritual and sacred with a science-based, evidence-based approach to creating health and resilience on our land.
It was a huge honor for SMC. I'm sorry I wasn't allowed to discuss this visit with anyone, really, per US Secret Service request.
I'm so proud to be a part of this community everyday, and felt honored to represent SMC this morning with our guests. All of this work happens because of the hard work of all of you, and because of your love of this land. Together we are making a difference and caring for this land in special ways. …
Secretary Vilsack promised to include mention of SMC in his Cabinet report for President Biden.
Thanks to all of you!
Mac
---
Mac McGoldrick
Shambhala Mountain Center
Senior Director of Master Planning and Project Management
Recent Awards and Recognition
Larimer County Land Stewardship Award, 2019
Conservation Forestry Project, Phase I, Completed, 2018

https://www.dralamountain.org/wp-content/uploads/2023/05/miles-053021..jpg
1045
2048
admin
https://www.dralamountain.org/wp-content/uploads/2023/05/Drala-logo-1.jpg
admin
2021-12-07 22:02:23
2023-05-09 13:32:29
SMC's Award-Winning Eco-Forestry Work