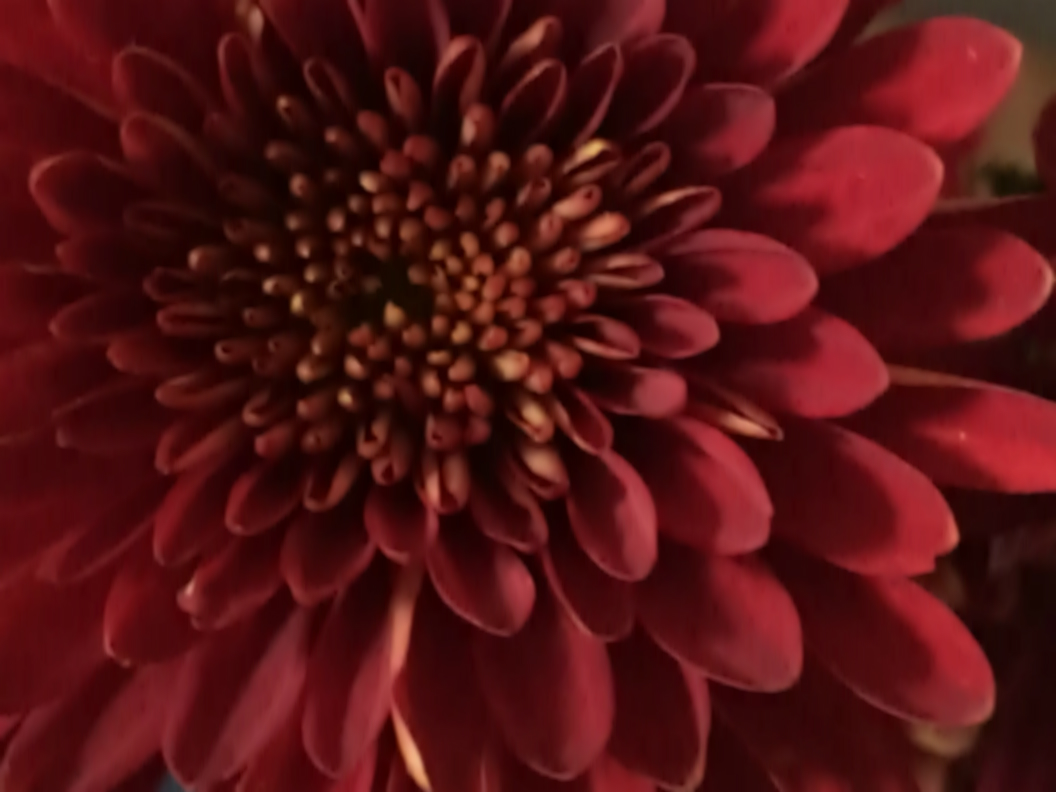 By Katharine  Kaufman
By clearly seeing the extremes of experience, you learn to scout the middle way.
~Judith Lief
Lion's Roar
Nov. 9, 2016
Flakes, thick and float.
Giddy, I take pictures with my phone as I drive.
                                                                  ~
Sally got loose but didn't go far. Norman fought a tabby I've never seen. A car, traveling east, almost hit the calico from across street (last night I dreamt of the calico). I wrote poems and listened to poems read. Cashew cheese on crackers, hakurei turnip, celery, lemon ginger tea. Red chrysanthemum at the market, the color of blood as it leaves the body and mixes with air. Mark played and we danced slowly, sang halleluiah. At the end we attached safety pins to our t-shirts and blouses. Some cried, some angry and said so. Winter sun slants low through window over couch and to houseplants. They grow in directions I have never seen.
Wednesday all day I lift out of my body then back in. Barbara, on the phone, reminds me of random acts of kindness. I can do this. Laura Ann says call my representative. A man's voice says hello and I read my little speech. He'll pass the message along. I find out you're supposed to call every day so calls flood in.
I watched the map go red like the mums.  I went to sleep thinking it would work out by morning. When I woke I knew what was important. At Union reservoir men cast lines off the dock. There was something more urgent than usual in our over-eager waves to each other. I think of Robert Duncan's "the urgent wave of the verse." Poets, comedians are going to have an inspiring four years, as far as material goes.
                                                                ~
Sitting Wednesday I tried to persuade my spiritual topic. I replaced my feelings with A  GREAT teaching for all of us . THE BEST teaching. My expression came out flat and dry like cardboard.  A superficial carton bubble. In the next bubble my friends listened politely because they are polite and then talked about what they needed to. Disbelief, shock, surprise. AHA! I was swimming in the world of bypass! Spiritual materialism. Caught!
Mark explains spiritual by -passing as something like: Skipping over actual feelings and emotions to a so- called spiritual state, like bliss or forgiveness or oneness. Or maybe using spiritual experiences to avoid relating to emotions, self or other. Using so- called spirituality as a cloak for protection from reality.
                                                         ~
Leonard Cohen sings all over the world today:
Ring the bells that still can ring
Forget your perfect offering
There is a crack in everything
That's how the light gets in.*
                                                              ~
At Naropa, students spoke from their heart of hearts. OH! This world! You know. Threats, language, abuse, the hate. Confusion. Exhaustion. Where do the students find refuge? Wine, yoga, reading, baths, practice, books, community, writing, mom...
                                                                ~
I listen to Cary Egan.**  She says to Terri Gross that the job of Chaplin is to find out and accommodate people's faith, beliefs. She is not trying to convince people of something. Can I be like this, as a priest, a teacher? Can I not offer advice, teachings, when the moment calls for something more open, receptive? I write, and speak from experience mostly. Sometimes my rant rubs against a leg of an ancient teaching. Integrate is the wrong word. Maybe Being. Maybe
                                                         ~
I return to Sunday Yoga and Wednesday Sitting. Walking to Walgreens. Even sitting in the dentist's chair is a refuge. I can listen to a teacher, and if no one is talking I can listen to the sounds of the refrigerator.*** I can lend a hand; pick up the phone.  And you?  What is your refuge? What brings you to the middle way?
                                                               ~
Today it is snowing. As I drive to school I take pictures of snow randomly. They happen to include other things, the back of white truck,  road, cracked windshield, cottonwoods, pines, and a little bell hanging off the rear view that rings when I drive a bump.
When I get to school I shoot a 12 second movie of the teahouse in the snow. In the movie it sounds like a river is flowing, but it's actually traffic.  Sounds like this, Shanti… Shanti, Shanti. Last night I dreamt of a teacher who has helped me, from India. He tells me the same thing.
                                                     ~  o ~
* Leonard Cohen , Anthem dublin, 12-09-2013 – YouTube
**Hospice Chaplain Reflects On Life, Death And The 'Strength Of The Human Soul'
*** Philip Glass – Changing Opinions (Crouch End Festival Chorus …
About the Author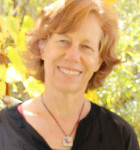 Katharine Kaufman, MFA, is ordained as a priest in the Soto Zen lineage. She studied Yoga in India and practiced and taught for many years at Richard Freeman's Yoga Workshop and Wendy Bramlett's Studio Be. Katharine is an adjunct professor at Naropa University where she teaches Contemplative Movement Arts and is a student of poetry. // Katharine Kaufman
https://www.dralamountain.org/wp-content/uploads/2023/05/IMG_1294.jpg
792
1056
admin
https://www.dralamountain.org/wp-content/uploads/2023/05/Drala-logo-1.jpg
admin
2016-11-22 20:02:00
2023-05-09 13:10:35
by pASS