An Interview with "The Original Kitchen Scalawags"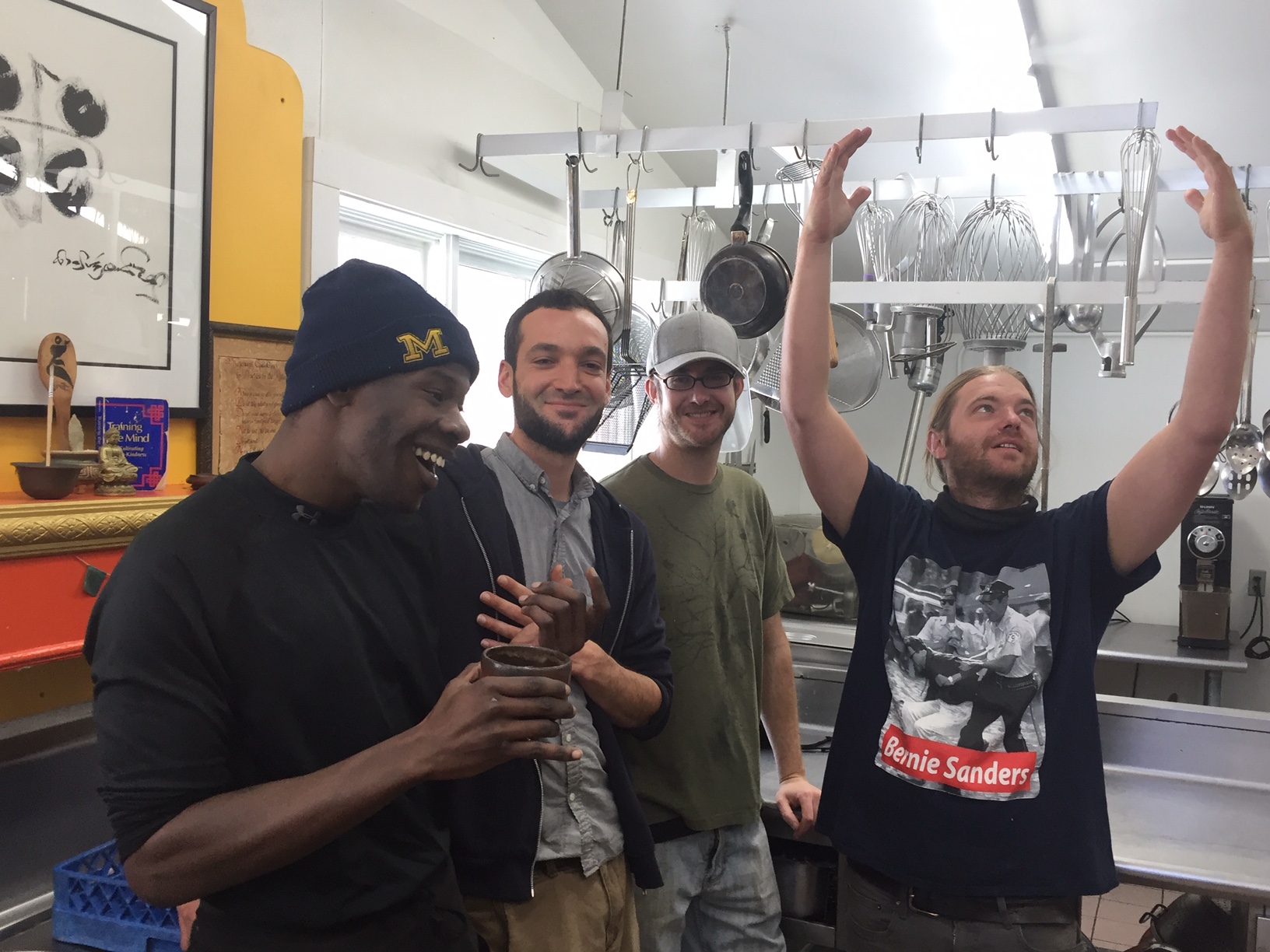 By Whitney Trotta //
I recently had the pleasure of interviewing some of the "Original Kitchen Scalawags." It was fun.
These guys know how to make some pretty delectable dishes… and all have quite unique stories of how they ended up here, who inspires them in their kitchen creations, and, you may even walk away with a recipe at the end of it all.
Read on to hear from Chris B., Jeff, Eben, and Martel—four of Shambhala Mountain Center's outstanding kitchen crew, and October's "SMC Community Members of the Month."
1. When did you first arrive to Shambhala Mountain Center? How did you hear about it?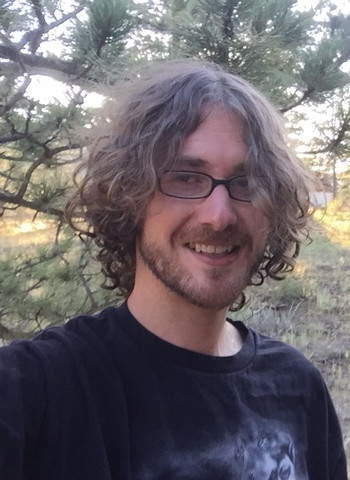 Chris B.: I think I heard about SMC from a friend of mine in Fort Collins. Interestingly, my dad had property up at Crystals Lakes, so we had driven by the turn off that leads here many times. I was looking for Core Staff positions as I was leaving my teaching job in Greeley, and a job in the kitchen was available. It sounded exciting, and I applied, and things fell into place. I arrived in June 2018.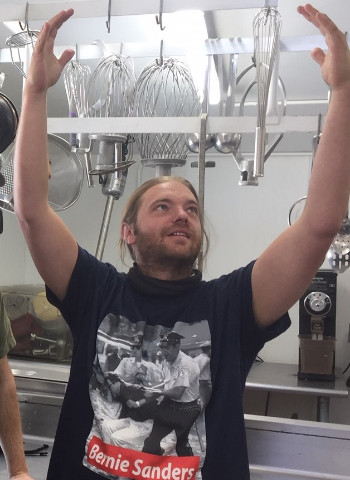 Jeff: I was in Vegas. I was researching how to become an Elvis impersonator, and then I met and became friends with a gambler. We started going to the Shambhala Center together—we liked going to self-help groups together and things like that. We met someone that lived at SMC there. And then we came here.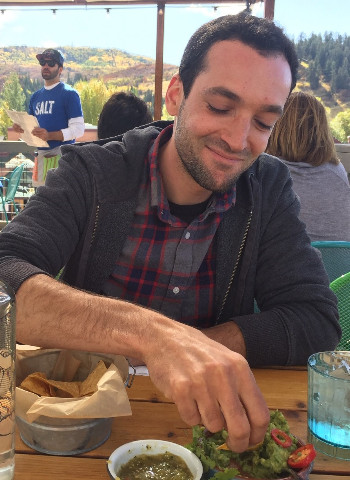 Eben: I first arrived at Shambhala Mountain Center in May 2004 after my freshman year of college at Naropa University. I heard about this place through various friends and teachers at Naropa, and I was like "hey, this would be a great place to come for a few weeks!" I started set-up in 2004… there were even a couple other people there then that are here now… Noel Smith and John Rupe (they were both leading set-up).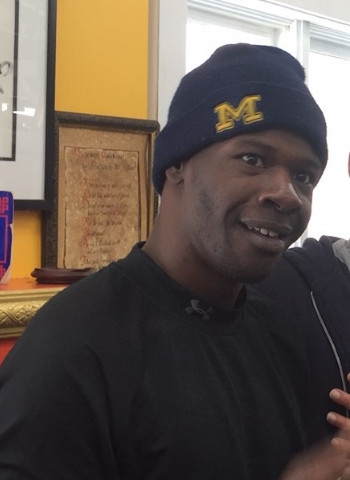 Martel:  I arrived in the summer of 2017. I heard about SMC from a good friend, and at the time, the commander of the kitchen was having the problem we always have—he needed more people working in the kitchen. So he said "Yeah, come on up and work in the kitchen," but he didn't talk to his boss about it, and so I arrived, and ended up having to stay at Elkhorn Trailhead for about a week and a half. They brought me avocados and stale baguettes. By the basic goodness of everyone here, I ran into a fellow at Elkhorn lodge, and he invited me to lunch, and that same afternoon I went to the ROTA pit. The rest is history.
2. When did you start in the kitchen?
Jeff: It was April 2017 that we arrived for set-up. It was like a dream come true. After set-up, I was going to come to the kitchen, but I realized it seemed like a lot of work, and so I went to Practice and Education for the next four months. Then I left SMC—there weren't any jobs. I went to San Francisco and roamed the streets aimlessly. In March 2018, I came back to SMC and worked in the kitchen.
Eben: Most recently, I arrived in the summer of 2015. I had just left my job at the Kripalu Center for Yoga and Health in Massachusetts, and was driving across the country to go live with some friends in Oregon and find a job there. I was just planning to stay at SMC for a couple of weeks, and volunteer in the gift store. One of the women working in the store happened to be leaving, and so they asked me if I'd take the job, and I decided to stay. I started in the kitchen in winter 2017. I wanted to learn a new skill set and maybe start a new career, and so far, it's been great—and I really love it!
Chris B.: I arrived mid-June 2018, and had only been here once before. The opportunity to practice and be in nature, which I really love, just excited me. Serving food for a lot of people was different for me. I had worked in fast food, but the closest thing I'd done to this was helping my sister with catering jobs. So it was intimidating coming into the kitchen and wondering "Will I know what to do?" "What if I mess up a big dish for a lot of people?," but I had Cam helping me through dishes, and other support, people guiding me, and I gained confidence and felt "I can do this!"
3. What's your favorite SMC Kitchen memory?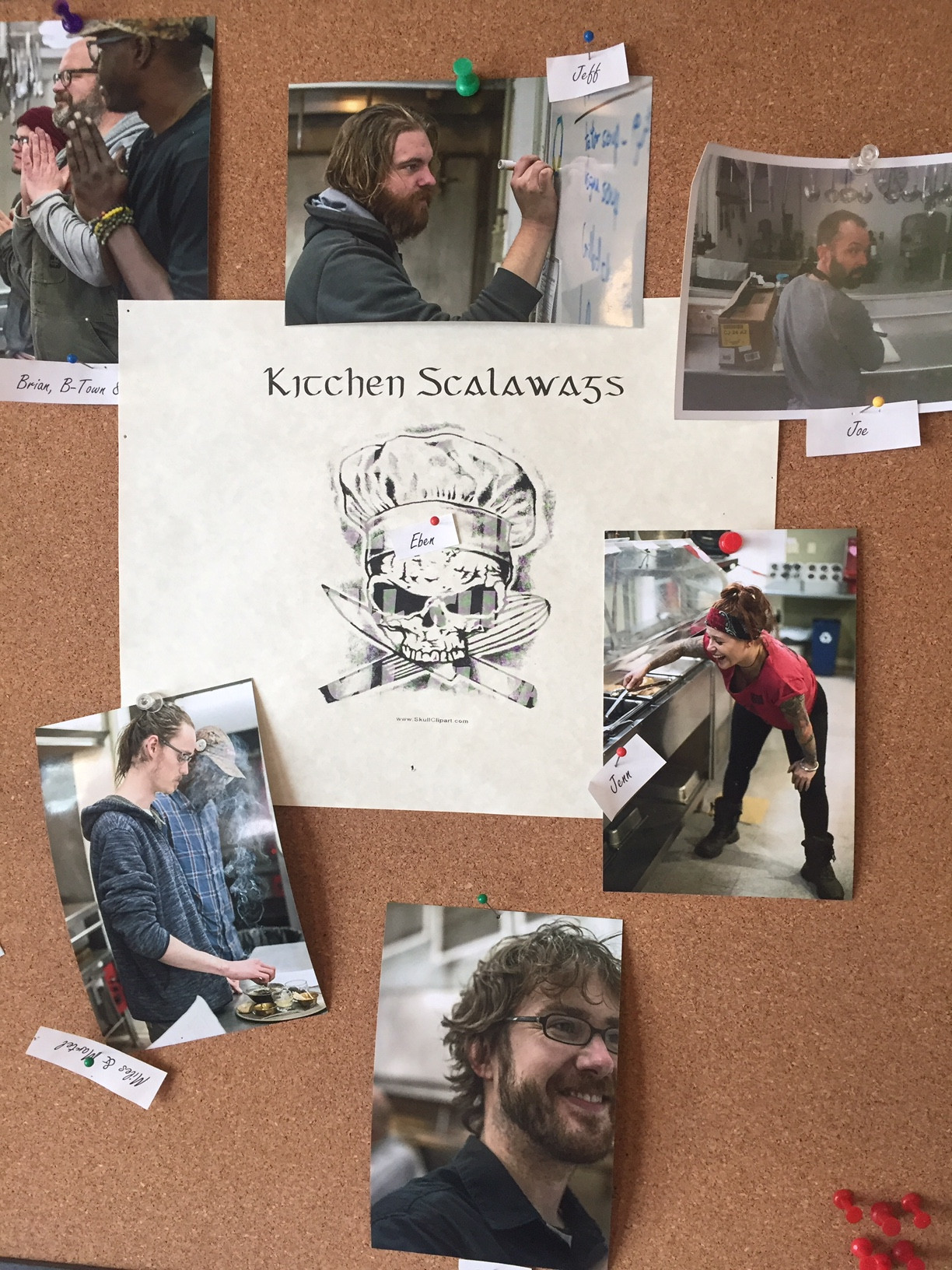 Eben: Probably my favorite kitchen experience so far was Thanksgiving 2018. Just being a part of the crew, waking up early to do all the great brunch stuff we did—brie en croute, lox, mocktails—it was a very familial affair. Putting out all the beautiful brunch offerings, working throughout the day to make a lovely evening meal. I'd say Thanksgiving 2018 was pretty wonderful. Thanksgiving up here is pretty nice—so for our readers—we do have a Thanksgiving retreat over that weekend, so if you'd care to join the SMC Staff, come up for Thanksgiving and enjoy our lovely feast! It's gonna be great.
Chris B.: I remember a couple of good send-offs when people were leaving. For Cam's send-off, we ended up doing a lot of toasts for him, and it was just really in the Scallywag vain of our little pirate society. Seeing our leader go, but it was a good transition, and we all had enjoyed working with him and spending time with each other, so it felt like a celebration of all we'd gone  through. Otherwise—dance parties.
Martel: A year or so ago, we had a Yun retreat here, and worked 15 days straight, 10 hour days. By the end of it, we were getting loopy, and one of the funniest things I've ever seen—we made a whole bunch of really pretty trays, stacked them up, and rolled them over to Red Feather Conference Center (instead of using the kitchen van). Then we all got back here (to the kitchen), and ate noodles out of the trash can. That's how you know we were really at rock bottom, working 10 days straight, eating garbage noodles. It was very unifying.
Jeff: So one time, I found someone trapped in the walk-in, in the freezer. I let him out, and we still have a close connection.
4. Who is your "food idol"?
Martel: I'm gonna just say the most generic answer I can think of—Gordon Ramsey. There is also a group of people that have a YouTube channel "Twist," that I've learned a lot from.
Jeff: Richard Simmons. He lifted me up when I was down. He taught me to sweat…. he told me I can be snazzy and jazzy at the same time. I can cook with flare, and I don't care.
Chris B.: My sister and my brother, honestly. My brother has been a chef at a handful of restaurants—he's five years younger than me. My sister is five years older, and they both have a lot of cooking experience. She cooked for Apple, and actually made special food for Steve Jobs a couple of times. And my mom.
Eben: Definitely my mother. She borrowed from various cultures around the world—from her Turkish falikas, to her arroz con pollo, to her baked zitis—her wide variety left an impression on me. She was definitely my food idol.
5. Name your favorite dish you've ever made at SMC. Can we get the recipe??
Chris B.: Maybe the Jackfruit dish that I did. It's a Mexican-style vegan burrito dish. The jackfruit shreds apart like pulled pork. Start with caramelizing onions, add peppers, then garlic, and then add your jackfruit. Add in a good vegan cheese, a nice tomatillo salsa, avocado, and roll it up in a tortilla.
Eben: Mac n' cheese is up there—I make a really good mac n' cheese. But, I'm thinking my favorite is Sweet Potato Tempeh Hash, which is a lovely autumnal dish. It's basically a nice little hash with crumbled temple, finely diced sweet potatoes, sauteed nicely in an agave syrup, with rosemary, cinnamon, allspice, ginger, nutmeg. I like to add a bunch of roasted seeds to it. It's one of my favorite meals I've developed up here, and it's vegan, so everybody can get into that.
Martel: Me and Jeanna once made cinnamon rolls. We woke up at 4am before a Staff Retreat, and they came out f***ing spectacular. Neither of us can remember how we made them.
Jeff: Eggs. Just plain eggs.
About Whitney Trotta | SMC Development Manager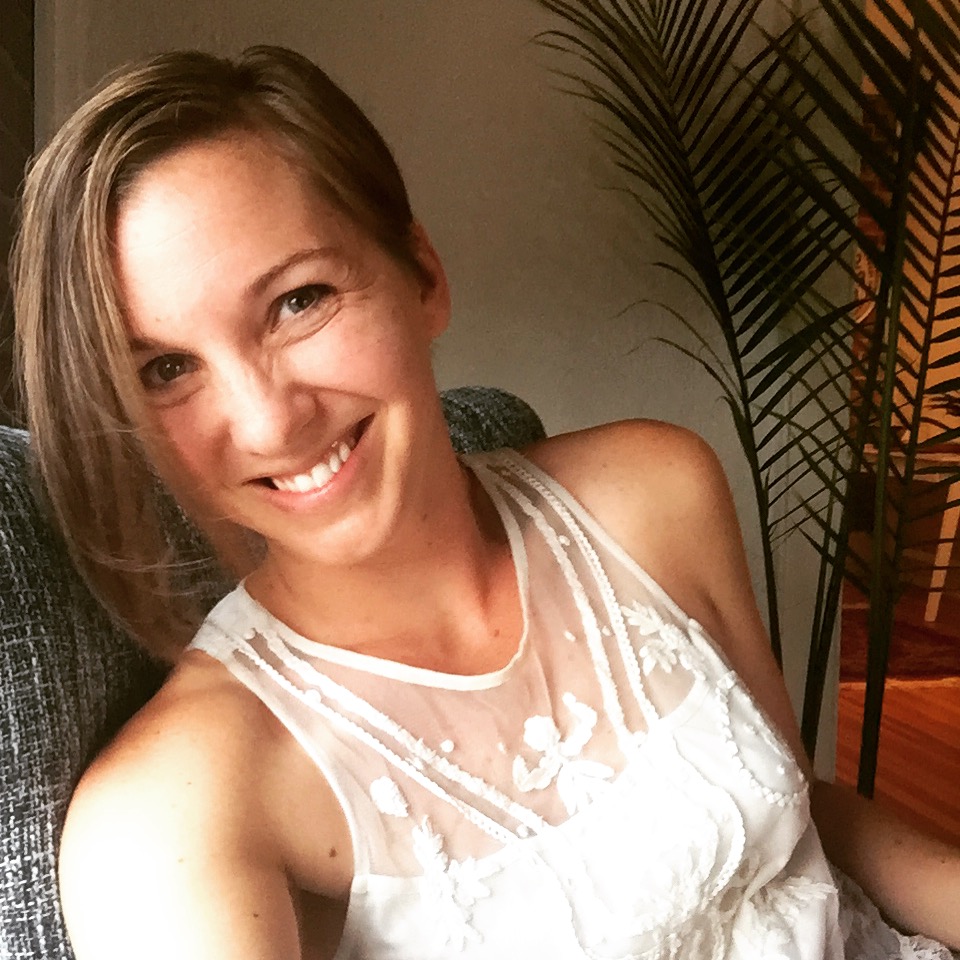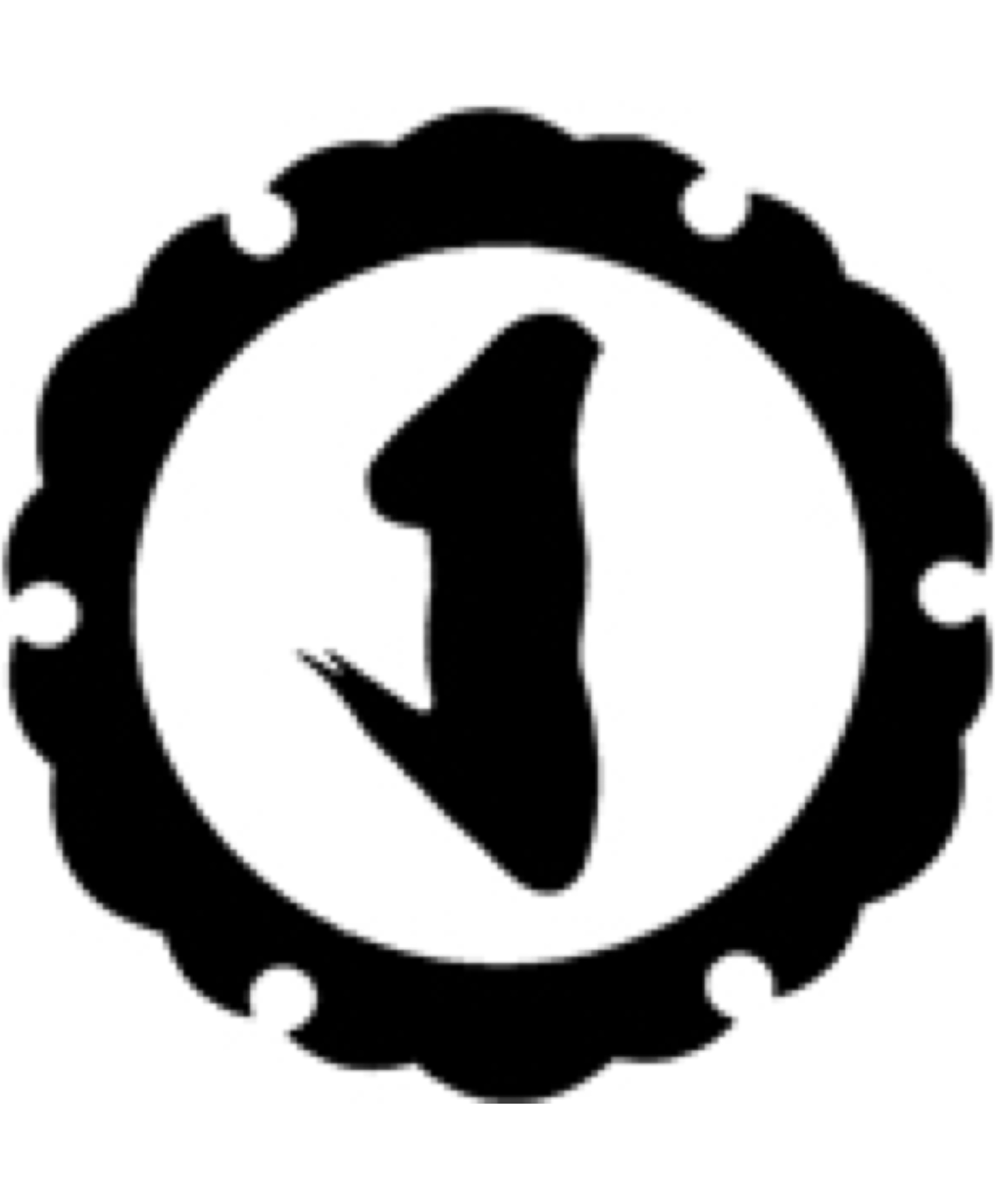 Before coming to Shambhala Mountain Center, Whitney lived in Olympia, Washington, where she worked in schools and for a non-profit that served homeless families. She was intrigued by a peaceful life in the mountains, and the idea of living at a meditation retreat center brought her to SMC as a summer volunteer. Whitney now joyfully serves SMC as the Development Manager.
https://www.dralamountain.org/wp-content/uploads/2023/05/IMG_3670.jpg
1224
1632
admin
https://www.dralamountain.org/wp-content/uploads/2023/05/Drala-logo-1.jpg
admin
2019-10-28 22:15:42
2023-05-09 13:22:29
An Interview with "The Original Kitchen Scalawags"