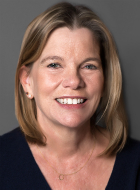 Susan Kaiser Greenland
Susan Kaiser Greenland is an internationally recognized leader in teaching mindfulness and meditation to children, teens, parents, and professionals. She played a foundational role in making mindfulness practices developmentally appropriate for young people and helped to pioneer activity-based mindfulness with her first book The Mindful Child. Her second book Mindful Games, offers simple explanations of complex concepts, methods, and themes while expanding upon her work developing activity-based mindfulness practices. She speaks widely at prestigious institutions and meditation centers in the United States and abroad.
Susan worked as a corporate lawyer from 1988 to 2005 representing the ABC and later the CBS network owned and operated television and radio stations. During that time she developed the Inner Kids model while volunteering in public schools teaching secular mindfulness. Inner Kids is a hybrid of classical mindfulness and meditation practices that have been adapted for children, and one of the first mindfulness programs in education. Susan and her husband, the author Seth Greenland, founded The Inner Kids Foundation, a not-for-profit organization that taught secular mindfulness in schools and community-based programs in the greater Los Angeles area from 2001 through 2009.
Susan was on the clinical team of the Pediatric Pain Clinic at UCLA Mattel Children's Hospital, co-investigator on several UCLA research studies on the impact of mindfulness in education, and a collaborator on an investigation of mindful eating for children and caregivers. Research on the Inner Kids elementary school program was published in the Journal of Applied School Psychology. In 2006, Susan was recognized as a "Champion for our Children" by First 5 LA, the largest and most influential children's advocacy group in Los Angeles. She serves on the Board of Directors of The Foundation for a Mindful Society, publisher of Mindful Magazine.
Susan has studied meditation with teachers from the Tibetan Buddhist tradition since 1997. She lives in Los Angeles with her husband the author Seth Greenland. They have two grown children.