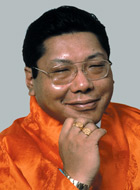 Chögyam Trungpa Rinpoche
Meditation master, scholar, best-selling author and artist, Chögyam Trungpa Rinpoche founded Shambhala Mountain Center in 1971. One of the most dynamic teachers of Buddhism in the 20th century, he was a pioneer in bringing the Buddhist teachings of Tibet to the West and is credited for introducing many important Buddhist concepts into the English language and psyche in a fresh and unique way. No less an authority than the Oxford English Dictionary cites his use of the word "ego" in one of its definitions.
Chögyam Trungpa Rinpoche founded Naropa University, the first Buddhist-inspired university in North America; established more than 150 meditation centers throughout the world; authored two dozen popular books on meditation, Buddhism, poetry, art and the Shambhala path of warriorship; brought many of the great Tibetan lineage holders to North America for the first time; and attracted several thousand students who have continued to spread his teachings and his legacy into the new milllenium.