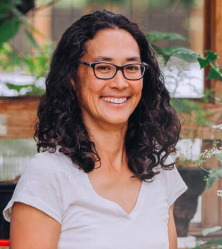 Kareen Erbe
Founder, Broken Ground Permaculture
Kareen Erbe is a certified permaculture designer and has been teaching permaculture and gardening workshops through her business, Broken Ground, for over a decade. She and her husband live on a suburban cold climate permaculture homestead in Bozeman, Montana. She has a BSc. in Environmental Science and completed an advanced permaculture program taught by Geoff Lawton, at the Permaculture Research Institute of Australia. Kareen has also trained with Rosemary Morrow, author of the Earth User's Guide to Permaculture.
Additional studies include Master Gardener and Master Composter Certifications, training in Ecology Action's Grow Biointensive methods, and participation in a Food Forest Design Charrette with author, teacher and designer, Dave Jacke. She has also worked as a permaculture consultant for the sustainability organization, GoodtoChina, in Shanghai, China, and is currently the permaculture advisor for Bodhi Farms in Bozeman.
Kareen is currently on the faculty of the Permaculture Women's Guild Online Permaculture Design Course and the Green Path Herb School. She has been a regular contributor to Rocky MountainGardening Magazine, Permaculture Women Magazine, and was featured in The New Pioneer. Learn more about Kareen at brokengroundpermaculture.com or through her youtube channel atyoutube.com/c/BrokenGround.