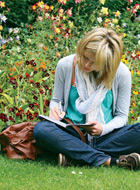 Writing & Meditation Retreat
Albert Flynn DeSilver and Susan Piver
September 21–25, 2017
Tuition $397 + 4 nights
In sessions led by each of the three distinguished faculty members, you'll hear inspiring talks, engage in innovative writing exercises, explore dynamic meditation practices, discuss the art and craft of writing, and have the opportunity to share your work in a nurturing environment that engages and challenges writers of all levels, from the novice to the advanced. Because the focus of the summit is on re-connecting with your innate creativity and generating new writing rather than critiquing manuscripts, you simply begin where you are. This is a fun, creative, inspiring week of mindfulness and writing designed to ignite and re-ignite your passion for the ideas within you that are yearning to emerge and connecting with the stories you have to tell.
Albert Flynn DeSilver is an internationally published poet, writer, speaker, and workshop leader. His latest book is Writing as a Path to Awakening (based on his popular workshops by the same name) published by Sounds True. Albert served as Marin County, California's very first Poet Laureate from 2008-2010. His work has appeared in more than 100 literary journals worldwide including ZYZZYVA, New American Writing, Hanging Loose, Jubilat, Exquisite Corpse, Jacket (Australia), Poetry Kanto (Japan), Van Gogh's Ear (France), and many others. He is also the author of the memoir Beamish Boy, which Kirkus reviews called "a beautifully written memoir poignant and inspirational. . .." Albert received a BFA from the University of Colorado and an MFA from the San Francisco Art Institute. Albert is also a speaker and trainer who has taught writing workshops at the Esalen Institute, the Omega Institute, Spirit Rock Meditation Center, and literary conferences nationally. He lives in Northern California.  www.albertflynndesilver.com
Susan Piver is the New York Times bestselling author of many books, including the award-winning "How Not to Be Afraid of Your Own Life", "The Wisdom of a Broken Heart", "Start Here Now: An Open-Hearted Guide to the Path and Practice of Meditation", and "The Four Noble Truths of Love: Buddhist Wisdom for Modern Relationships". Her newest book is "The Buddhist Enneagram: Nine Paths to Warriorship."
Susan has been a practicing Buddhist since 1993 and graduated from a Buddhist seminary in 2004. She is an internationally acclaimed meditation teacher, known for her ability to translate ancient practices into modern life. Her work has been featured on the Oprah show, TODAY, CNN, and in the New York Times, Wall Street Journal and others.
In 2013, she launched the Open Heart Project, the largest virtual mindfulness community in the world with 20,000 members.