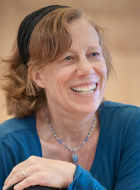 Writing from the Body
Katharine Kaufman
June 15–18, 2023
Tuition $370 + 3 nights
What word, what act, was it we thought did not matter?
~Jane Hirshfield
Drala Mountain Center is a perfect place for writing, with its hidden places, big views, and quiet atmosphere. The focus of the weekend is to support the practice of writing by listening to your memory body, present moments, and the land. You'll practice gentle Yoga, playful movement, and writing prompts that inspire your imagination and creative heart. Opening your senses, you'll meditate and walk outside. You'll write outside too, searching for the perfect writing nooks on the land. You'll read and share poems and prose, lists and notes, and be read to. You'll return from the weekend enthusiastic to include a writing and moving practice in your day to day living.
The published authors we'll read will be primarily women, people of color, as well as those who identify as LGBTQI+.
The nature of this retreat encourages simple affirmative feedback and no critiques.
All levels.
Please review and understand DMC's current COVID-19 policy before visiting DMC.
Katharine Kaufman teaches Yoga, meditation, writing workshops, and contemplative dance in Boulder County, at Drala Mountain Center in Colorado and online.  She studied Yoga in Mysore, South India, and taught for many years at The Yoga Workshop, Studio Be and Naropa University. She holds MFAs in Performance/Choreography as well as Writing/Poetics. Her poems have appeared in Cimarron Review, Elephant Journal, bottle rockets, and the anthologies, Uncontained, Writers and Photographers in the Garden and the Margins, and Precipice. She contributes essays to Drala Mountain Center's blog.
Katharine is ordained in the Soto Zen lineage.