Wisdom of the Body: Yoga and Meditation Retreat
September 14–17, 2023
Meditation & Mindfulness, On Land Retreats, Personal Transformation, Women's Yoga Retreats, Women's Retreats, Yoga Retreats, Yoga, Wellness & Embodied Living
"Katharine was wonderful, creating a safe nurturing tone and establishing community among us. She was both teacher/guide and fellow student herself – a powerful connection. She shared herself with us, and in doing so allowed us to share of ourselves."

"Katharine is as real and honest as it gets. She taught me so much, and my personal Zen practice and understanding of life grow immensely during my time with her."
Not every retreat teacher is the same! As you can tell from the comments above, the teacher makes a big difference in your overall retreat experience. Drala Mountain Center is honored to host Katharine's retreats. She compliments the sacred land with her presence.
If that's not enough reason to enroll in this unique retreat, here are a few more:
You'll practice with a fresh perspective that acknowledges your mind and body's wisdom
You will learn various ways of attending to your body
Through a variety of sequences — both restorative and flowing — you'll support sitting, walking, standing, and lying meditation postures
Starting from the ground, you'll build to heart centering postures
You'll gain strength and coax flexibility
Emerge from the weekend with a new lens on your unique experiences
Gain a rich understanding of how to practice Yoga and Meditation safely and wisely whether practicing alone or in a group.
You've experienced joy and health, pain and loss. You've tested your physical limits, and have recovered from surgeries. You've traveled, shared insights, and cared for others. Now it's time to attend to your body as it is today.
Please review and understand Drala Mountain's current COVID-19 policy before visiting.
Enjoy this essay from Katharine:   Everything You Need
Retreat Faculty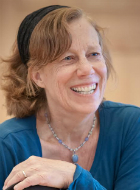 Katharine Kaufman teaches Yoga, meditation, writing workshops, and contemplative dance in Boulder County, at Drala Mountain Center in Colorado and online.  She studied Yoga in Mysore, South India, and taught for many years at The Yoga Workshop, Studio Be and Naropa University. She holds MFAs in Performance/Choreography as well as Writing/Poetics. Her poems have appeared […]