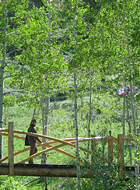 Thanksgiving Retreat & Renewal
November 23–26, 2017
Tuition $125 + 3 nights
Discover relaxation and wakefulness in our pristine mountain environment. Our Retreat and Renewal programs offer contemplative approaches for working with the fullness of daily modern life, bringing insight and inspiration to career, family, health, relationships, and personal endeavors of all kinds.
Explore this special edition of our Retreat and Renewal program, and join us for Thanksgiving! You are welcome to join us for Thursday's celebratory meal and then stay through the weekend, or just come to relax and rejuvenate after your celebration at home.
Retreat and Renewal is a spacious retreat that allows time to walk the land, visit the Great Stupa, or follow the spontaneous callings of your spirit. Meet other participants over tasty meals (vegetarian options available). Join in part or for all of the scheduled activities: meditation (with instruction), yoga, a guided hike with our land steward, a tour of the Great Stupa, and evening activities. Great for friends, couples, or individuals. Massage available. For massage rates, click here.
This retreat includes a beautiful full dinner on Thanksgiving at 4pm. Can't attend the whole retreat? Join us for dinner or 2 nights.
Click here for a sample weekend schedule.