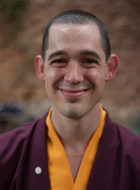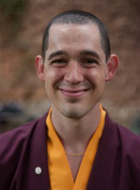 The Art of Meditation: A Weeklong Retreat
Loden Nyima
April 9–16, 2023
Tuition $395 + 7 nights
Meditation is ultimately a process of accepting and befriending ourselves completely, all the way to our natural basic goodness.  In the process we will encounter not only our innate ability to truly rest and rejuvenate, but as well lots of ups and downs, strong emotions, unprocessed material, cycles of inspiration and discouragement, and questions
about how to integrate our practice with daily life.  These are all well and good parts of the path, perhaps all the more so amidst the stresses of modern times where we're often coming to meditation for relief—and rightly so!
Shamatha, or "peaceful abiding" meditation has been practiced by people, Buddhists and beyond, for thousands of years.  Retreating into the mountains together to meditate is one of the great living traditions of spirituality we have today.  It's survived because it works, and continues to be used by people of virtually every walk of life and as part of a wide range of contemplative paths.
In this retreat, we will practice shamatha meditation, and in particular learn the art of relating with all of the above and more.
Participants can expect
– Many hours of practice a day in a gentle and supportive setting
– Time each day to rest and connect with nature
– To learn how to tap into and strengthen our inspiration
– Experiential exercises on how to deepen our meditation, heal and relate with difficult emotions, and use the natural environment as a source of strength
– To learn how to establish an attainable daily practice and tools we can use on the spot in life
– Group discussions and one-on-one sessions with the instructor
Gelong Loden Nyima is a fully ordained Buddhist monk. He lived at Gampo Abbey from 2009 – 2017 where he practiced intensively, completed Shedra studies, and served in various roles including as a Shastri. He now lives at Drala Mountain Center where he serves as Resident Teacher and a founding faculty member for the Summer Seminar and other programs. He spends a portion of each year in retreat, frequently travels to continue his own dharma education, and can often be seen jogging around the land at DMC.