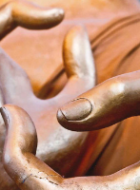 Summer Seminar: Empowering the Buddha Within
Holly Gayley and Loden Nyima
June 1–29, 2022
Tuition $0 + 28 nights
Registration requires completion of a questionnaire, please see below.
We are accepting requests to attend the first two weeks of the retreat, June 1 – 15, 2022. Partial attendance requests will be reviewed on a case-by-case basis.
Showing humanity the path to ending suffering and reconnecting with our natural state of freedom and openness — this was the single focus of the Buddha's teachings. The profundity and sophistication with which the Buddha expressed a path of liberation has given his teachings a timeless relevance, making them as practical today as ever. We're delighted to practice these teachings for a month each year in our Summer Seminar program — this year being our fourth — with a new topic each year. All are warmly welcome to join, whether for the first time or returning for the fourth!
The Buddhist Mahayana teachings assert that all beings share the same inherently awakened buddha nature. Our journey as practitioners is to uncover and empower this within ourselves and everyone. We practice the bravery to lean into and transform what temporarily obscures our inherent nature and causes us suffering.
In this year's Summer Seminar, we'll explore these teachings. We'll begin by connecting with the mother of all the buddhas, Prajnaparamita, the boundless space of wisdom, and by reviewing the Heart Sutra. Then we'll explore the sacred ecology of our world and ourselves through the five buddha families, and the teachings on how we experience these aspects of reality in either a confused or awakened way.
 As Francesca Fremantle writes, these five Buddha families…
 "…contain the possibility of both confusion and wisdom, samsara and enlightenment. We can see every single aspect of life in terms of these five families—emotions, thoughts, environment, nature, living beings, art, music, colors, jobs that people do, organizations, every kind of thing that you could think of. This is a way of seeing the Buddha-nature in absolutely everything, and the potentialities for waking up through every event that comes into our lives."     
Our primary text is The Profound Treasury of the Ocean of Dharma by Chögyam Trungpa Rinpoche, with additional texts and readings, including selections from the Uttaratantra of Maitreya, which is one of the main classical texts on Buddha nature. As always, our approach will combine timelessly relevant classic teachings with deep personal exploration and experience, learning how to befriend ourselves and others completely and empower the Buddha within.
We've been honored to host a very wide range of inspired people over the years with the Summer Seminar. We welcome new people in our cherished community to share this journey.
Please keep reading for a bit more about the retreat.
A Month In Community
During our month together, we will co-create a community that balances rigor with simplicity, warmth, and openness through discipline in body, speech, and mind. The environment supports your journey in deepening your understanding of the Buddha's teachings, developing your meditation practice, and relaxing the speed and habitual patterns that characterize our daily lives. Our mornings are spent in silent meditation, giving the program a retreat atmosphere, and our afternoons are dedicated to study in small groups or whole group talks. Optional evening activities include practice in The Great Stupa, contemplative movement and yoga. Regular contemplative movement practice is encouraged to integrate and embody the teachings, and care for our precious human bodies.
We will have the option and opportunity to work with the Five Householder Precepts, which have been practiced since the time of the Buddha. These precepts were introduced to the Shambhala community by Chögyam Trungpa Rinpoche. Their intention is one of kindness and compassion to ourselves and others, helping us maintain healthy conduct or discipline (shila), harmony, cultivating meditation (samadhi) and wisdom (prajna). The five precepts are to cherish life and refrain from taking it, to refrain from stealing, to refrain from sexual misconduct, to being truthful, and to remain sober. We will say more about these precepts during the retreat itself.
Who Should Attend?
This retreat is appropriate for newer to advanced meditation practitioners, including those on the teaching path. It is not intended as an initial introduction to Buddhism or meditation, so some background is helpful. Please feel free to reach out to Loden at loden@shambhalamountain.org for assistance in deciding whether this is for you. The retreat is limited to 45 participants. We encourage early registration to ensure you get a spot.
Required Texts
The Profound Treasury of the Ocean of Dharma Vol II: The Bodhisattva Path of Wisdom and Compassion  by Chögyam Trungpa Rinpoche. You are not expected to have read this text beforehand, but you will need to have it with you during the retreat, either in hard copy or digital format. Additional readings will be provided, including selections from the Uttaratantra of Maitreya, one of the main classical texts on Buddha nature.
Registration Process
There are two steps to the registration process: 1) Completing this Summer Seminar Questionnaire and 2) Registering for lodging. You may register for lodging at any time, however your full registration for Summer Seminar is not considered complete until you have been notified of acceptance into the retreat. The purpose of the questionnaire is to ensure the suitability of the retreat for each participant and to help the teaching team tailor the program to participant needs. Participants will be contacted soon after receipt of your completed questionnaire.
Lodging, Attendance, and Scholarship Information
Lodging Recommendation
We recommend selecting lodging in the Red Feather Cabins or Tent options as these are closest to the Red Feather Campus, where the seminar will be held. Lodging rates have been reduced by 23 – 37% depending on lodging type.
Please review the SMC COVID-19 policy before completing registration.
Partial Attendance
We are accepting requests to attend the first two weeks of the retreat, June 1 – 15, 2022. Partial attendance requests will be reviewed on a case-by-case basis. Preference is given to the full, month-long retreat attendees. To indicate your interest in attending the first two weeks only of the Summer Seminar, please fill out the Summer Seminar Questionnaire. You will be contacted within two weeks of submitting your questionnaire with confirmation that your registration for the Summer Seminar retreat is complete.
Scholarship Information
Click here to learn more about Financial assistance and scholarships.  BIPOC individuals are encouraged to apply.  If you would like a scholarship, please fill out the Summer Seminar Questionnaire. Once you have been confirmed, you will be instructed to apply for a scholarship.
Tentative Daily Schedule:
7:00 – 8:00 am        Morning Chants and Meditation
8:00 – 9:00 am        Breakfast
9:00 – 12:30 pm      Meditation and Movement
12:30 – 1:30 pm      Lunch
1:30 – 3:00 pm        Work Period and Rest
3:00 – 4:30 pm        Teachings
4:30 – 5:00 pm        Break
5:00 – 6:30 pm        Small Group Study
6:30 – 7:30 pm        Dinner
7:30 – 9:00 pm        Evening Activities
Heart Gift
Toward the end of your retreat you will be asked if you would like to make a heart gift to the teacher. In Shambhala and other wisdom cultures, people often make heart gifts to those who have made receiving precious teachings possible. The heart gift is purely optional and based on personal inspiration and gratitude. The amount is not important, just your inspiration to give, connect, and explore the cycles of generosity and offering. Gifts can be made by cash, check or paypal.
Holly Gayley is a scholar and translator of contemporary Buddhist literature in Tibet and associate professor at the University of Colorado Boulder. Her research areas include gender and sexuality in Buddhist tantra, ethical reform in contemporary Tibet, and theorizing translation, both literary and cultural, in the transmission of Buddhist teachings to North America. She is author of Love Letters from Golok: A Tantric Couple in Modern Tibet (2016); co-editor of A Gathering of Brilliant Moons: Practice Advice from the Rime Masters of Tibet (2017); translator of Inseparable Across Lifetimes: The Lives and Love Letters of Namtrul Rinpoche and Khandro Tāre Lhamo (2019); and editor of Voices from Larung Gar: Shaping Tibetan Buddhism for the Twenty-First Century  (2021). For two decades, she has regularly led meditation workshops and retreats. At the University of Colorado, she is a founding member of a Contemplative Resource Center on campus and part of the co-design process for the Mindful Campus initiative. https://hollygayley.org
Gelong Loden Nyima is a fully ordained Buddhist monk. He lived at Gampo Abbey from 2009 – 2017 where he practiced intensively, completed Shedra studies, and served in various roles including as a Shastri. He now lives at Drala Mountain Center where he serves as Resident Teacher and a founding faculty member for the Summer Seminar and other programs. He spends a portion of each year in retreat, frequently travels to continue his own dharma education, and can often be seen jogging around the land at DMC.