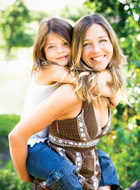 Spring Break Family Retreat
Leslie Gossett and Kate Raddock
March 26–30, 2018
4 nights
Adult Tuition $150, Child Tuition (3 years and up) $100, 2nd Child Tuition $75
Spend your spring break breathing in the mountain air with your whole family. Spring Break Family Retreat offers relaxation and connection through contemplative movement classes, meditation sessions, nature exploration, a children's program, and family activities. Days are spacious and provide many opportunities to nourish your body, mind, and relationships. Parents will be offered a chance to practice with other parents, and children will take part in a rich program of mindfulness, meditation, and yoga taught through stories, songs, and play. Families can come together for activities such as hikes, games, or evenings by the fire.
All sessions are optional; you may attend as many or as few formal sessions as you like, and craft the perfect retreat for your family.
Leslie Gossett is the Chair of the Leadership Council for the Shambhala Office of Families and Children and founder of Be You Yoga and Mindfulness for Families and Children. She has worked with children for over 20 years. A certified yoga teacher for children and adults, and a Meditation Instructor in the Shambhala tradition, Leslie offers a path for children, youth, teens, parents, and families to connect with the strength and wisdom of their own hearts. In her free time, you can find her brewing herbal potions, learning to speak dragon, and building faery houses with the amazing children in her life.
Kate Raddock has been a practicing student of the Shambhala lineage since 2011 and working as a body educator since 2009. Kate is a meditation teacher, massage therapist, energy worker, yoga teacher, nature-lover, and a hoot. Her teaching guides people to an embodied discovery of their own natural well-being and wisdom. She lives in Plainfield, VT with her partner Alex.