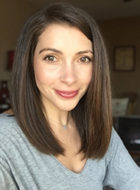 ONLINE • The Short Course in Mindful Self-Compassion
Megan Prager, M.A.
September 3–30, 2021
Thursdays, 4pm - 5:30pm Mountain Time
Prices
$250.00 – Standard Tuition
$195.00 – Repeater Rate (for past participants of this program)
$225.00 – Early Bird Rate (until July 25)
The Short Course in Mindful Self-Compassion (SC-MSC) is a highly experiential program that will teach you how to care for yourself with understanding and support when you need it most — when you fail, feel inadequate, and are suffering. The SC-MSC program builds the skills of mindfulness and develops the resource of self-compassion to enhance our capacity for emotional wellbeing. Burgeoning research shows that self-compassion is strongly associated with emotional wellbeing, the ability to cope with life challenges, lower levels of anxiety and depression, healthy habits such as diet and exercise, and more satisfying personal relationships. It is an inner strength that enables us to be more fully human—more fully ourselves.
The Short Course in Mindful Self-Compassion is an adaptation of the empirically-supported Mindful Self-Compassion program, designed to support the cultivation of self-compassion. SC-MSC was developed by Kristin Neff, PhD, the pioneering researcher in the field of self-compassion, and Christopher Germer, PhD, a leader in the integration of mindfulness, compassion and psychotherapy.
In this program, you will learn . . .
How to stop being so hard on yourself
How to handle difficult emotions with greater ease
How to motivate yourself with encouragement rather than criticism
Mindfulness and self-compassion practices for home and everyday life
Research and theory behind mindful self-compassion
Registration is limited — sign up to reserve your spot today!
Teacher
Megan Prager is Co-Founder of Mindful Labs and Compassion Programs Director at UC San Diego Center for Mindfulness. She is a Certified Mindfulness Based Stress Reduction Instructor (MBSR), a Certified Mindful Self-Compassion Instructor (MSC), a Certified Compassion Cultivation Instructor (CCT), a Compassion for Couples Instructor (CFC), and an Adjunct Faculty member at San Diego State University. Megan is also a Teacher Trainer and Mentor for the UC San Diego Mindfulness Based Professional Training Institute and for the Center for Mindful Self-Compassion. In addition to teaching Mindfulness and Compassion-based programs, Megan specializes in developing and delivering trainings for Fortune 500 companies as well as for educational, healthcare, and academic settings. In all her ventures, Megan's passion and mission are the same: to empower individuals with an understanding of the important role they play in shaping their lives and well being. Megan believes through compassionate awareness individuals are able to utilize one of the best resources they have: themselves.
Contact Megan: meganprager@gmail.com
Website: www.mindfullabs.com