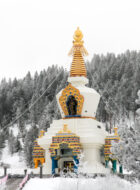 Retreat & Renewal
Dr. Nashalla Nyinda and Sara Buck
December 16–18, 2022
Tuition $100 + 2 nights
Teachers: Nashalla Nyinda and Sara Buck
Discover relaxation and wakefulness in our pristine mountain environment. Our Retreat and Renewal programs offer contemplative approaches for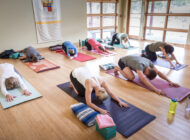 working with the fullness of daily modern life, bringing insight and inspiration to career, family, health, relationships, and personal endeavors of all kinds.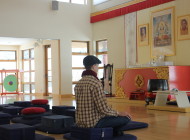 Join us for a spacious retreat that allows time to walk the land, circumambulate the Great Stupa, or follow the spontaneous callings of your spirit. Meet other participants over tasty meals (vegetarian options available). Join in part or for all of the scheduled activities: meditation (with instruction), yoga, visiting the Great Stupa, and evening activities. Great for friends, couples, or individuals. 
Click here for a sample weekend schedule. 
Nashalla Gwyn Nyinda, Menpa, TMD began studying Tibetan Medicine in 1999. Encouraged by her root teacher, The Very Venerable Thrangu Rinpoche, she interned at Chagpori Tibetan Medical Institute's Clinic in Darjeeling, India for two years. Nashalla's Menpa degree was conferred in 2009 by Qinghai Tibetan Medical College and The Shang Shung Institute of Tibetan Medicine. She founded The Sowa Birthing Method, a bodywork series geared at decreasing medical intervention and postpartum depression. Her Bachelors in Interdisciplinary Studies from Naropa University focused on Asian Medicines and Buddhist Psychology. Nashalla went to the Institute of Taoist Education and Acupuncture for a Masters of Acupuncture in the Classical Five-Element lineage. She teaches as an Adjunct Professor at Naropa University, and lectures on Buddhism, meditation and Asian healing traditions worldwide to Tibetan and Western students, practitioners, doctors. Nashalla directs the Nyinda Clinic of Tibetan Medicine & Holistic Healing in Boulder, Colorado.
Sara has been a student and instructor of yoga asana for eleven years. She has taught students from the ages of three to ninety. Her inspiration is to assist in the process of helping as many humans as possible find the healing benefits of these physical and energetic practices. She has experienced that many people feel trapped inside of their bodies rather than feeling liberated, and hopes to help in reversing this effect. She teaches a variety of styles including Vinyasa, Ashtanga inspired, Restorative, Yin, the cultivation of Shakti energy, elements of Qi Gong, and dance. She has an emphasis on breath/movement synchronization and safe and accurate alignment. Sara loves to combine elements of all that she offers intuitively to fit the needs of the class or student.