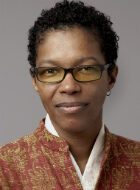 Radical Dharma Camp: Bringing the Truth Home
Rev. angel Kyodo williams, Rōshi
August 13–17, 2022

Tuition 300/450/600 + 4 Nights
Please see below for important registration instructions, BEFORE clicking on Register Now above. Thanks!
Beyond race training 101, Radical Dharma Camp is an immersive experience designed to gather and connect folkx already committed to implementing racial justice and anti-oppression interventions in the circles of community, identity, faith, care and influence.
Together we'll take a deep dive into the framework and movement to confront white supremacy, racial injustice and the intersections of dominance and disbelonging that keep us from personal and collective liberation.
During Radical Dharma Camp we leverage sound, rest, play, and practices for you to:
Engage across lines of difference in real-time to learn skills necessary to move through the fears and resistance that limit your ability to act from love

Understand the essential role of embodiment and self-care to collective liberation

Learn to apply the Framework for Liberation (F4L) to generate interventions relevant to your specific experience, context, and conditions

Gain insight into skillful use of congresses and how to be accountable to "telling the truth of these times"

Network with others to disrupt and #getintheconversation
Radical Dharma Camp rigorously challenges you to be present, invite introspection, wonder, vulnerability, accountability, and love.
Registration Process
Note: We have a waitlist for scholarship funds.
Step 1: Fill out this survey.
Step 2: If you are not requesting a scholarship, you can go ahead and also register by clicking Register Now above (please still also complete Step 1). Please see info below about scholarships.
Registrations will not be considered complete until both steps have been completed.
Financial Assistance
You can self-select support on the tiered tuition and/or subsidized lodging rate, bypassing a scholarship, if the tiered tuition and/or subsidized lodging rate covers your needs (you can see tiered tuition rates above, and the subsidized lodging rate by clicking Register Now above).
Drala Mountain Center is offering financial assistance to individuals who would not otherwise be able to attend this retreat.
In Step 1 above, there will be a space to request a scholarship within the survey.
The deadline to request a scholarship is 7/31, and awards will be made via email by the end of the business day on 8/5.
Please do not complete Step 2 until you have received information about your award, as there will be special registration instructions provided at that time.
Scholarships are for tent double housing.
Rev. angel Kyodo williams, Sensei is a maverick dharma teacher, author, and founder of Center for Transformative Change. She applies wisdom teaching to social issues at the intersections of racial, economic and climate justice. Rev. angel notes, "Love and justice are not two. Without inner change, there can be no outer change. Without collective change, no change matters." angelkyodowilliams.com
Program Details
Registration takes place from 2– 5 pm on your program start date. All participants and volunteer staff must check in at our Guest Registration house. Please arrive before 5 pm to check-in and settle into your accommodations. Your program begins with dinner, followed by an orientation. The Guest Registration house closes at 5 pm after which no one is available to provide information or orient you to your accommodations. All programs usually end at 12:30 pm on the program's departure date, followed by lunch. Further specifics regarding your program's schedule will be available upon arrival. If applicable, you will receive an email from the program coordinator in the week prior to your program with any additional information you may need.