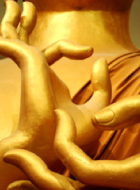 ONLINE • Living Wisdom and Compassion: Summer Seminar
Holly Gayley and Loden Nyima
July 17–31, 2020
Registration requires completion of a questionnaire, please see below.
The single focus of the Buddha's teachings was showing humanity the path to ending suffering and reconnecting with our natural state of freedom and openness. The profundity and sophistication with which the Buddha expressed a path of liberation has given his teachings a timeless relevance, making them as practical today as ever.
Two Weeks in Online Community
During our two weeks together, we will co-create a community online that balances rigor with simplicity, warmth, and openness. This environment will support your journey in deepening your understanding of the Buddha's teachings, developing your meditation practice, and relaxing the speed and habitual patterns that characterize so many of our daily lives. Our mornings begin with a guided meditation and continue with silent meditation, giving the program a retreat atmosphere, and our afternoons are dedicated to study, in dharma talks and small study groups. Optional evening activities include White Tara practice and contemplative movement sessions. 
Living Wisdom and Compassion
"Living Wisdom and Compassion" focuses on the Mahayana teachings, including topics such as Buddha Nature, the cultivation of Bodhichitta (the mind of awakening), and the Paramitas (transcendent actions).  These teachings show us how to rouse the courage and compassion to orient and bring everything in life onto our path of enlightenment for all beings. In so doing, they are also very pragmatic instructions for living with compassion, courage, patience, and wisdom in the challenges of everyday life.  
These are classic Buddhist topics common to many traditions and passed down through millennia of practitioners.  The principal sources we will be using are The Profound Treasury of the Ocean of Dharma, Volume II, by Chögyam Trungpa Rinpoche, the Way of the Bodhisattva by Shantideva, and other supplementary sources.  
Who Should Attend?
If you participated in last year's Summer Seminar, or have previous background in Buddhism either through practice or study in Shambhala or any Buddhist community, university studies, personal reading, etc., then "Living Wisdom and Compassion" could be right for you.
Registration Process
We require that each participant fills out this Online Summer Seminar Questionnaire before their registration is considered complete. The purpose of the questionnaire is to ensure the suitability of the retreat for each participant and to help the teaching team tailor the program to participant needs. 
Please click the Register button at the top of the page and submit your registration to hold your spot, then return to this page to complete the questionnaire (you can also find a link to the questionnaire in the welcome letter that you will receive after you register). You will be contacted within one week of submitting your questionnaire with confirmation that your registration for the Summer Seminar retreat is complete.
Attendance and Scholarship Information
Partial Attendance
Participants are welcome to attend the second half of the retreat each day only. Full tuition is still required. 
Scholarship Information
If you would like a scholarship, please first fill out the Summer Seminar Questionnaire. In your response to the last question, indicate that you would like a scholarship. Once you have been confirmed, we will provide a link to the scholarship application. Scholarship applications are due one week prior to the program start date, and scholarships are considered in the order that they are received, so if you are interested, please fill out the questionnaire above as soon as possible. 
Daily Schedule
Note: Times below are provided in Mountain Time. You may join from any timezone.
9 am: Chants and Guided Meditation (sitting, tonglen) (Live program on Zoom) 
10 am-noon: Sitting Practice (May or may not have a live component on Zoom) 
2 pm-3:15 pm: Dharma Talk (Live on Zoom)
3:30-5:  Shedra Groups (small group discussion) (Live on Zoom) 
Evenings – optional Tara practice or contemplative movement (May or may not be every evening) 
* People are welcome to attend this retreat from 2-5 pm only and skip the morning and evening sessions. 
Holly Gayley is a scholar and translator of contemporary Buddhist literature in Tibet and associate professor at the University of Colorado Boulder. Her research areas include gender and sexuality in Buddhist tantra, ethical reform in contemporary Tibet, and theorizing translation, both literary and cultural, in the transmission of Buddhist teachings to North America. She is author of Love Letters from Golok: A Tantric Couple in Modern Tibet (2016); co-editor of A Gathering of Brilliant Moons: Practice Advice from the Rime Masters of Tibet (2017); translator of Inseparable Across Lifetimes: The Lives and Love Letters of Namtrul Rinpoche and Khandro Tāre Lhamo (2019); and editor of Voices from Larung Gar: Shaping Tibetan Buddhism for the Twenty-First Century  (2021). For two decades, she has regularly led meditation workshops and retreats. At the University of Colorado, she is a founding member of a Contemplative Resource Center on campus and part of the co-design process for the Mindful Campus initiative. https://hollygayley.org
Gelong Loden Nyima is a fully ordained Buddhist monk. He lived at Gampo Abbey from 2009 – 2017 where he practiced intensively, completed a cycle of advanced studies (Shedra), and served in various roles including as a senior teacher. He now lives at Drala Mountain Center where he serves as Resident Teacher and a founding faculty member for the Path of Meditation, the Summer Seminar, and other programs. He spends a portion of each year in retreat, travels to continue his own dharma education, and can often be seen jogging around the land at DMC.