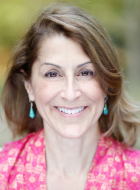 Open Heart Project Retreat: Exploring The Four Noble Truths of Love
Susan Piver
June 27–July 1, 2018
Tuition $425 + 4 nights
This program has been rescheduled for Oct 26-29. (Click here for details and to register)
Practice meditation to recover a sense of balance, cultivate fearlessness, sharpen your mind, and soften your heart. This 4-day retreat is a gathering for the Open Heart Project, a 20,000 member online meditation community, AND anyone who is committed to living with a clear mind and an open heart in order to bring more sanity, love, and joy into the world. Each day will include guided practices and talks from Susan Piver as well as participant led breakout sessions that arise from the group's collective wisdom. Days will be spent in practice, dialog, and learning from each other. Evenings are for gathering socially to get to know each other and deepen connections. ​
June 27
Arrival day. Check-in from 2 pm to 5 pm, dinner at 6 pm, followed by orientation
June 28, 29, 30
7:00 am — Early morning meditation practice and gentle wake-up walk in the mountain air8:00 am — Breakfast (vegetarian options available at all meals)
9:00 am — Meditation practice, discussion groups, contemplative practices, a talk from Susan
12:30 pm — Lunch and break (hike, rest, read, write, hang out with new friends)
2:30 pm — Meditation practice
4:00 pm — Tea break
4:30 pm — Participant-led group explorations on a variety of topics: learn from each other and share group wisdom
6:30 pm — Dinner
7:30 pm — Evening event
Departure Day
Susan Piver is the New York Times bestselling author of many books, including the award-winning "How Not to Be Afraid of Your Own Life", "The Wisdom of a Broken Heart", "Start Here Now: An Open-Hearted Guide to the Path and Practice of Meditation", and "The Four Noble Truths of Love: Buddhist Wisdom for Modern Relationships". Her newest book is "The Buddhist Enneagram: Nine Paths to Warriorship."
Susan has been a practicing Buddhist since 1993 and graduated from a Buddhist seminary in 2004. She is an internationally acclaimed meditation teacher, known for her ability to translate ancient practices into modern life. Her work has been featured on the Oprah show, TODAY, CNN, and in the New York Times, Wall Street Journal and others.
In 2013, she launched the Open Heart Project, the largest virtual mindfulness community in the world with 20,000 members.