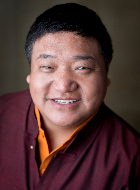 ONLINE • Tips and Techniques for Clearing Agitation and Restoring a Comfortable Mind
Orgyen Chowang Rinpoche
March 20, 2021
Prices
$75.00 – Subsidized Tuition
$100.00 – Standard Tuition
$150.00 – Supporting Tuition
These days, many of us find that our minds are agitated, experiencing a variety of forms of unhappiness, sadness, and anxiety. This hinders our lives and blocks the flow of our energy.
In this online retreat, meditation master Orgyen Chowang Rinpoche will teach you how to break free from agitation and unhappiness and restore a happy and comfortable mind. Rinpoche will draw on his own experience, and on teachings from Dzogchen masters such as Guru Rinpoche Padmasabhava and Longchenpa.
Join this daylong program and learn how to use meditation and the principles of enlightened teachings every day, to find relief from the challenges you face and to experience happiness and joy in the present moment. This program will include dharma talks and guided meditations to clarify the mind. Participants will come away with powerful tools to deal with anxiety, distraction, and restlessness, and to maintain an experience of comfort in every moment.
The retreat is appropriate for beginners as well as experienced meditators.
This is the registration page for the full program. If you would like to register for the free Friday night Dharma Talk instead, please register by clicking this link.
Teacher
Orgyen Chowang Rinpoche is a meditation master in the Nyingma lineage of the Buddhist tradition. He studied for nine years at Larung Gar in Serta, eastern Tibet, with his teacher, Jigmed Phuntsok Rinpoche, who is widely acknowledged as one of the greatest Dzogchen meditation masters of the twentieth century. Orgyen Chowang Rinpoche lives in the San Francisco Bay Area and is the founder and spiritual director of Pristine Mind Foundation. He travels throughout the United States and around the world teaching a broad range of audiences—including those at universities, tech companies, and yoga studios—how they can improve their lives through meditation. Orgyen Chowang Rinpoche is the author of Our Pristine Mind: A Practical Guide to Unconditional Happiness, available from Shambhala Publications.