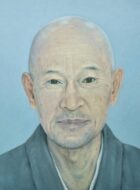 ONLINE – Wisdom Seeks Wisdom
Jakusho Kwong Roshi
November 12, 2022–January 28, 2023
Saturday Nov 12 2022 and January 28, 2023, see below for times
Prices
$108.00 – Program Price
$50.00 – Subsidized
$150.00 – Supporter
Commentary on recently released talks by Shunryu Suzuki Roshi
Suzuki Roshi, beloved teacher who was instrumental in bringing Zen to America, was a formative influence for many American Buddhists. His book Zen Mind, Beginner's Mind remains a classic in the genre. Suzuki Roshi (pictured above) also was an important friend to Chögyam Trungpa (founder of Shambhala and Drala Mountain Center) and many in the Shambhala sangha.
In this two-part program, Jakusho Kwong Roshi will offer teaching and commentary on previously unknown talks from Shunryu Suzuki Roshi from 1965, now turned into transcripts and made available by San Francisco Zen Center, supported by Engage Wisdom. Jakusho Kwong Roshi is a devoted disciple of Shunryu Suzuki Roshi.
We are delighted to offer Kwong Roshi's teachings on the first talks from the Suzuki Roshi Archives in this live online program. Drala Mountain is working in partnership with the San Francisco Zen Center to provide this new release of teachings.
Please Note:  This is a two-part program with sessions on November 12 and January 28, 2023. The transcripts to be discussed are as follows:
Saturday, November 12
"Beginner's Mind and Calmness" and "Wisdom Seeks Wisdom"
Saturday, January 28
"Forgotten Value of Religion — Study Yourself" and "Pure Rules —Tokusan and the Old Lady."
Daily Schedule
In each session, the schedule will include brief meditation practice, a talk by Kwong Roshi, and some time for Question and Answer and discussion. Each day will include two sessions:
10 am to Noon
4 pm to 6 pm
All times are shown in Mountain Standard Time. Click here to convert to your time zone.
Heart Gift
It is customary to offer a monetary Heart Gift to the teacher. This is completely voluntary according to your inspiration, and there is no suggested amount — any amount is appreciated! Heart gifts are made to Kwong Roshi via Sonoma Mountain Zen Center's PayPal account.
Recording
Sessions will be recorded and accessible for 14 days following the online intensive (February 11, 2023).
Registration
Registration closes two hours before the start of the program.
Teacher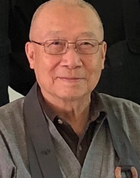 Jakusho Kwong-roshi, is the founder of Sonoma Mountain Zen Center — Genjoji Temple. Authorized by the Sotoshu in Japan, he is a lineage successor of the late Shunryu Suzuki Roshi.  Kwong-roshi travelled and taught throughout America and Asia, as well as Poland and Iceland, where Zen practices have been established. Also he has deep connections with other traditions, including the Theravadin, Shambhala/Drala Mountain.Center, Rinzaiji, Soen-Korean Zen, Christian Carmelite, and Benedictine traditions. He had the good karma to meet all the great Asian teachers who came west. He is author of Mind Sky:  Zen Teaching on Living and Dying, No Beginning,No End: The Intimate Heart of Zen, and Breath Sweeps Mind CD. Jakusho continues to deepen his insight to share with many international sincere people.