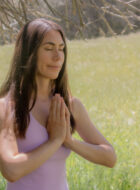 ONLINE • Relax and Renew Yoga Series: Cultivate Peace in Uncertain Times
Melissa Lago
September 8–29, 2022
Four Thursdays in September 9/8, 9/15, 9/22, and 9/29, 6:00-7:00 pm MT
Prices
$75.00 – Program Price
$50.00 – Subsidized
$100.00 – Supporter
Relax and renew your sense of well being in this 4-week online yoga program. A series of slow flow sequences emphasize connecting breath and movement to promote relaxation and cultivate peaceful feelings.
Cultivate Peace in Uncertain Times
Many of us experience competing demands and priorities, our "to do" lists are endless. We can easily become disheartened by the state of the world. As our mind races we often become disconnected from our body and senses. Yoga helps us reconnect. It helps us to transform our tendency to overthink into energy, which can be honed and used to feel calmer and more grounded. When we feel resourced it's easier to respond rather than react to our difficulties.  Then, we can cultivate appreciating the everyday miracles that fill each of our lives—such as a glass of water, a sunset, or a warm hug.
Relax & Renew Yoga Promotes Well Being
In this series we will practice a slow flow — a sequence of poses — to help us attune to our senses. Slow flow can also increase circulation, flexibility, mental clarity, balance and focus. The emphasis will be on experiencing rejuvenation through connecting our breath and movement. Through breath-work, yoga postures, and weekly themes such as loving-kindness, inner peace, equanimity, and gratitude, we will strengthen qualities that support us in showing up more fully for ourselves and others. Thus, we deepen our sense of ease and well-being.
This class accommodates all levels.
Presenter

Melissa Lago MA, MDiv is an educator and yoga teacher. She was introduced to yoga as a child at home and at the Oak Grove School founded by Jiddu Krishnamurti. As a teenager, she dedicated herself to the practice. For five years she taught yoga, philosophy, and world religions at Holy Names University in Oakland, CA. In 2018 she completed a Master of Divinity degree at Harvard where she worked to bring yoga, spiritual care and chaplaincy together. She enjoys teaching privately and for groups. In the fall she joins the faculty at Naropa University as a Visiting Lecturer in Yoga Studies. To learn more about her background, please visit her website at www.yogatransformsus.com.
See Melissa Lago's article, How Do We Live in the Face of Loss, Heartbreak and Grief