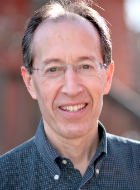 ONLINE • The Path of Service: An Online Insight Meditation Retreat
David Chernikoff
July 29–August 1, 2021
Prices
$150.00 – Program Price
$200.00 – Generosity Policy - Supporter Rate
$75.00 – Generosity Policy - Subsidized Rate
Sorry, this program is canceled and will be rescheduled for the fall.
---
Compassionate action plays a central role in many of the great wisdom traditions. In this retreat, we'll practice sitting and walking meditation in Noble Silence to quiet our minds and open our hearts. There will be meditation instruction and dharma talks on the retreat theme. We will also do some guided meditations, interactive exercises, and discussions designed to deepen our understanding of the joys and challenges of working to benefit living beings and our planet. Together we'll create a supportive learning community and remember why the Buddha wisely chose to make the sangha, the community, one of the three refuges.
Please Note:
As a teacher in the Insight Meditation tradition, David is accustomed to being paid in accordance with the traditional Buddhist practice of dāna, a Pali term meaning "generosity freely given." His intention is for all registration income for this retreat to go to Shambhala Mountain Center, which is currently in great need of financial support. At the end of the retreat, participants will be invited to offer a free-will financial contribution to David as an expression of appreciation for the teachings and to support the teacher. In that every participant's situation is unique, there is no suggested amount and offerings of any size will be gratefully accepted. SMC understands that dharma teachers in the West need to make a living and that these are difficult times for many of us. SMC has therefore offered to supplement David's compensation if it doesn't reach an agreed upon minimum so that he can continue offering the dharma for all of us. To make your dana offering, please click here 
https://www
.
davidchernikoff.com/retreat-
dana 
Presenter
David Chernikoff began the study and practice of meditation in 1971 and started teaching insight meditation in 1988. His teaching has been influenced by senior teachers from the Insight Meditation Society and Spirit Rock Meditation Center, Tibetan teachers he studied with during a 3-year stay in Nepal, and spiritual guides from other contemplative traditions, most notably Ram Dass, Father Thomas Keating, Zen teacher Yvonne Rand, and Rabbi Zalman Schachter-Shalomi. David taught psychology and meditation for many years at Naropa University. He currently serves as one of the guiding teachers of the Insight Meditation Community of Colorado and has a private practice in Boulder, Colorado. David teaches retreats and workshops throughout the U.S. He is author of the recently released book Life, Part Two: Seven Keys to Awakening with Purpose and Joy as You Age. Learn more at www.davidchernikoff.com.