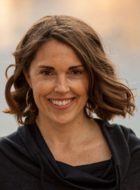 ONLINE • Deep Rest: A Women's Yoga & Meditation Virtual Retreat
Sara Avant Stover
May 22–23, 2021
Prices
$75.00 – Subsidized Tuition
$150.00 – Standard Tuition
$200.00 – Supporting Tuition
Simply being a human being can be exhausting– especially when we live in a culture that condemns rest. Add to that a pandemic, an ever-quickening pace of life, plus any other curve balls life might throw your way, and you're lucky if you don't burn out (at best) or reach your breaking point (at worst).
Doing too much, too often, takes a toll and creates hormonal imbalances, illness, relational distress, tanked creativity, as well as more emotional and mental suffering. During these tiring times, let's gather together to re-value and reclaim the sacred practice of deep rest. We'll replenish every dimension of your being: physical, mental, emotional, and spiritual.
Our weekend will include inspiring "wisdom talks," women's yin and slow flow yoga, Buddhist meditation, journaling, ample time for self-care, nature walks, group sharing, and sacred silence. Within our sacred container, you'll have the space, inner and outer quiet, inspiration, supportive sisterhood, and guidance you need to make rest a more regular and regarded part of your life.
All self-identified women, with all levels of yoga and meditation experience, are warmly welcome. Please bring your journal, as well as whatever yoga and meditation props you may need.
Teacher
Sara Avant Stover is a bestselling author; teacher of women's yoga, meditation, and spirituality; and a Certified Internal Family Systems (IFS) Practitioner. After a cancer scare in her early twenties, Sara moved to Thailand, embarked on a decade-long healing and spiritual odyssey throughout Asia, and has since gone on to uplift tens of thousands of women worldwide. The creator of the world's first Women's Yoga Teacher Training, Sara has also been featured in Yoga Journal, the Huffington Post, Newsweek, Natural Health, and on ABC, NBC, and CBS. She lives in Boulder, CO. Visit her online at SaraAvantStover.com