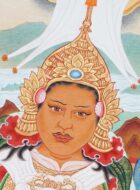 ONLINE – Buddha Nature & the Rigden Principle
Holly Gayley and Loden Nyima
September 26–November 14, 2022
This course is being offered on a donation basis in the longstanding Buddhist tradition of dana. There is no charge to register.
…
Given the ups and downs of our lives, and the daily calamities in the news, is there something deeper than our reactive mind with which we can face the challenges of our times?
The Mahayana teachings on buddha-nature help us discover our inner resources: boundless compassion, innate wisdom, natural openness, and raw potentiality. Connecting with these qualities empowers us to acknowledge and purify the negativity, habitual tendencies, and social conditioning at the heart of so much suffering, personal and collective.
In this course, we will connect the classic Mahayana teachings on buddha-nature with warriorship in everyday life emerging from unconditioned confidence, also known as the Ridgen principle. We will practice how to come into relational presence and reclaim our vitality and creativity through connecting with our emotions, sense perceptions, and basic nature.
This is a journey to wholeness, allowing us to recuperate the parts of ourselves that have shut down or gone numb and thereby fostering our responsiveness to systemic social issues.
While this course is offered openly and can certainly stand alone, it's also an invitation and entry point to a growing community of practitioners that has formed from four years of our annual Summer Seminar at Drala Mountain, online courses like this one, and monthly Bodhisattva Circle meetings on Zoom for sangha support.
Rigden detail image at top left is from the Casa Werma Rigden thangka by Greg Smith.
Schedule
Monday evenings, 6pm to 8pm Mountain; September 26, October 3, 10, 17, 24, 31, November 7, 14.
Heart Gift
It is customary to offer a monetary Heart Gift to the teacher(s). This is completely voluntary according to your inspiration, and there is no suggested amount — any amount is appreciated! Heart gifts are made to Holly and Loden directly via links that will be provided during the online sessions.
Recording
Sessions will be recorded and accessible for 14 days following the class, through November 28.
Registration
Registration will close two hours before the start of the program.
Teachers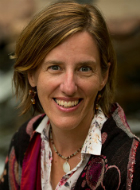 Holly Gayley is a scholar and translator of contemporary Buddhist literature in Tibet and associate professor at the University of Colorado Boulder. Her research areas include gender and sexuality in Buddhist tantra, ethical reform in contemporary Tibet, and theorizing translation, both literary and cultural, in the transmission of Buddhist teachings to North America. She is author of Love Letters from Golok: A Tantric Couple in Modern Tibet (2016); co-editor of A Gathering of Brilliant Moons: Practice Advice from the Rime Masters of Tibet (2017); translator of Inseparable Across Lifetimes: The Lives and Love Letters of Namtrul Rinpoche and Khandro Tāre Lhamo (2019); and editor of Voices from Larung Gar: Shaping Tibetan Buddhism for the Twenty-First Century  (2021). For two decades, she has regularly led meditation workshops and retreats. At the University of Colorado, she is a founding member of a Contemplative Resource Center on campus and part of the co-design process for the Mindful Campus initiative. https://hollygayley.org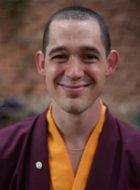 Gelong Loden Nyima is a fully ordained Buddhist monk. He lived at Gampo Abbey from 2009 – 2017 where he practiced intensively, completed Shedra studies, and served in various roles including as a Shastri. He now lives at Drala Mountain Center where he serves as Resident Teacher and a founding faculty member for the Summer Seminar and other programs. He spends a portion of each year in retreat, frequently travels to continue his own dharma education, and can often be seen jogging around the land at DMC.