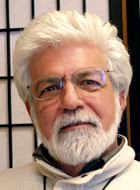 Take a Leap into 2018: Establish Your Intention and Commitment
Jon Barbieri
December 29, 2017–January 1, 2018
Tuition $235 + 3 nights
Join us for this special retreat and allow your aspirations for the New Year to become clear, confident and committed through reflection and renewal. We will go beyond the usual goal focused resolutions and learn how to go deeper and reconnect with our innate insight and wisdom and see renewal as a further step in our life's journey.
Our gathering will include guided mindfulness-awareness meditation, contemplative practices, and open time to rest and reflect.
On New Year's Eve we will celebrate with a fabulous full course dinner.
NOTE: Update on registration/new year's dinner. If you are thinking of attending, you are strongly encouraged to register by December 22nd in order for us to prepare for the incredible meal served for New Year's.
Special Winter Deal
Join us for this both the Holiday Meditation Retreat on Dec 22nd and the Take a Leap New Year's Retreat on Dec 29th and save 20% on lodging and meals for both retreats!
On the SMC Blog
Watch an interview with Jonathan Barbieri
For the past several years, Shastri Jon Barbierri has come up to Shambhala Mountain Center to lead a group retreat designed to help people enter the new year with strength, intention, and joy.  In this short interview, Jon shares some wisdom related to this process of setting intentions rather than resolutions, as well as what he's learned from leading this retreat year after year.
Jonathan Barbieri is a senior teacher in the Shambhala Lineage who has taught Buddhist and Shambhala trainings extensively throughout North America for over 30 years. Jon has been engaged in several livelihood pursuits including consulting with cities and counties on workforce development, creating contemplative co-housing communities, and, most recently, teaching Mindfulness programs to public agencies and businesses. He was formerly the Executive Director of Shambhala Mountain Center.