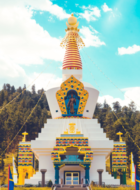 Mahasangha Gathering
Diana Mukpo, Pema Chödrön and Shanté Paradigm Smalls
July 22–25, 2021
Tuition + 3 nights
Join us for a gathering on the land at Shambhala Mountain Center to practice, to dialogue, to vision, and to celebrate the 50th anniversary. Diana Mukpo will lead the gathering with special guests Pema Chödrön and Shanté Paradigm Smalls. Pema Chödrön will join for a brief appearance. Online participation will not be offered for this in-person gathering.

The program will be modular with opportunities to engage in a practice track of your choice, attend dharma talks and workshops, and participate in sessions on contemplative arts and movement.  We'll host facilitated dialogues related to the past, present, and future of our community in the broadest sense.
The schedule includes downtime and opportunities for socializing, enjoying the natural beauty of Shambhala Mountain Center, and networking among attendees. All are welcome who feel connected to the Shambhala teachings and legacy of Chögyam Trungpa Rinpoche, regardless of teacher, practice stream, or inspiration.
Please note:  space for this program is limited due to COVID-19 restrictions. If you have questions, we recommend you still register to the best of your ability to reserve your spot, and then we will sort out your questions. If you have questions after you register, email is the fastest way to receive a response: frontdesk@shambhalamountain.org
Family Options
Childcare is available for children ages 2 to 10. Please indicate your interest in this on the registration page. We'll contact you with more information as it becomes available.
Financial Assistance & Scholarships
Click here to learn more. First, register, and select Personal Check for Payment – this registers you without payment. If you receive a scholarship, you will receive your award via email, and we will connect with you for any remaining balance.
Public Health
We will be socially distanced and modular in order to create a safe container in line with CDC and state COVID protocols. Vaccine for all participants is strongly encouraged. Please read the current SMC policy and practices about COVID-19.
Recording
Portions of this program will be recorded.
Werma Assembly
Werma Assembly follows the MahaSangha Gathering. If you are interested in Werma Assembly as well, click here. To participate in Werma Assembly online, click here.
About the Faculty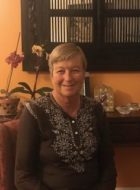 Lady Diana Mukpo, the wife of Vidyadhara the Venerable Chogyam Trungpa, Rinpoche, was born Diana Judith Pybus in 1953 in England. She first saw Chogyam Trungpa at a Free Tibet rally in London. Within a year, she and the Vidyadhara met and fell in love. They were married on January 3, 1970. A few months later, they left England for North America. They had been married seventeen years when the Vidyadhara died in Halifax, Nova Scotia, in 1987. Lady Diana has had a lifelong passion for horsemanship. She is among a handful of women who ever trained in dressage at the Spanish Riding School in Vienna. Today, she continues to train and compete dressage horses at the international level and to teach the discipline of dressage to many students. In addition to pursuing her own career and raising their five children, Lady Diana often accompanied the Vidyadhara when he travelled and taught with him at some seminars and retreats. Lady Diana is the author of Dragon Thunder: My Life with Chogyam Trungpa. Since Rinpoche's death, Lady Diana has taught throughout the Shambhala mandala, presenting both her personal experiences with the Vidyadhara as well as sharing her knowledge of the Shambhala and Buddhist teachings.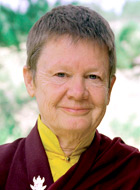 Pema Chödrön is a leading exponent of teachings on meditation and how they apply to everyday life. Widely known for her charming and down-to-earth interpretation of Tibetan Buddhism for Western audiences, Pema studied under the meditation master Chögyam Trungpa Rinpoche and currently studies with Sakyong Mipham Rinpoche and Dzigar Kongtrul Rinpoche. Pema is the resident teacher at Gampo Abbey, Cape Breton, Nova Scotia, the first Tibetan monastery for Westerners. She is author of The Wisdom of No Escape, Start Where You Are, When Things Fall Apart, The Places that Scare You, No Time to Lose, and Practicing Peace in Times of War and many other books. Click here to purchase one of her many titles online.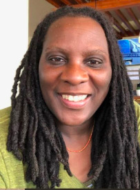 Dr. Shanté Paradigm Smalls (they/them) is a teacher and student in Vajrayana/Tantric Buddhism. They currently study under Lama Rod Owens and Lama Justin von Bujdoss, co-founders of Bhumisparsha.
Shanté began studying and practicing Buddhism at age 17 and has practiced in Zen, Sokka Gakkai International, Shambhala, and Bhumisparsa communities. They began on the teaching path in 2009 and were authorized by the Shambhala lineage to teach meditation and buddhadharma in 2015.
Shanté is focused on the healing impact of meditation in Black & Indigenous communities, People of Color communities, LGBTQ+ communities, and incarcerated and recovery communities. Shanté is a Teacher on the Liberate App and is a Lead Teacher on Weekly Dharma Gathering, which they co-founded and curate.
Shanté identifies as a Black Indigenous person who is queer and genderqueer. They live on Munsee Lenapehoking Territory (Brooklyn, NY).