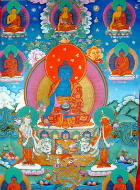 Medicine Buddha: Working with Suffering, Opening to Compassion
Dr. Nashalla Nyinda
May 5–7, 2023
Tuition $195 + 2 nights
How do we face experiences of suffering and pain, of working with what is and maintaining an open heart, ready to embrace the present moment? Just by hearing the mantra, or name of the Medicine Buddha innumerable benefits arise. This practice integrates the essence of compassionate healing and fuses it with trust we don't have to endure suffering, or help others alone. This weekend we practice compassionate healing as a community. Anyone in a healing crisis, burned out from compassion fatigue, or from a year of pandemic drama, those new to meditation and healing practices; as well as practitioners seeking to deepen compassionate healing for self and others, all benefit from this unbroken healing lineage.
Participants may bring any fresh unopened medicines or herbs for blessings and learn how to infuse healing mantra into any substances.
The excerpt below is from Dr. Nyinda's article: 

THE ART OF DIA

GNOSIS:

 

A Practice in Perception and Compassion
"Working with diagnosis in the Tibetan Medicine model is an art form based on a combination of education, intimacy with the elements, and pure direct perception. Cultivating a deeper level of interaction, employing psychology between doctor and patient creates the best possible outcome in determining the actual disease and circumstances creating imbalance. More profound accuracy of diagnostics requires faith and trust between doctor and patient. This opens a gateway for a pure vision of symptoms and the bodily, mental and/or spiritual aspects involved. The spiritual interchange between doctor and patient plays a much more significant role than immediately considered in the typical western biomedicine model."
Read more here.
Nashalla Gwyn Nyinda, Menpa, TMD began studying Tibetan Medicine in 1999. Encouraged by her root teacher, The Very Venerable Thrangu Rinpoche, she interned at Chagpori Tibetan Medical Institute's Clinic in Darjeeling, India for two years. Nashalla's Menpa degree was conferred in 2009 by Qinghai Tibetan Medical College and The Shang Shung Institute of Tibetan Medicine. She founded The Sowa Birthing Method, a bodywork series geared at decreasing medical intervention and postpartum depression. Her Bachelors in Interdisciplinary Studies from Naropa University focused on Asian Medicines and Buddhist Psychology. Nashalla went to the Institute of Taoist Education and Acupuncture for a Masters of Acupuncture in the Classical Five-Element lineage. She teaches as an Adjunct Professor at Naropa University, and lectures on Buddhism, meditation and Asian healing traditions worldwide to Tibetan and Western students, practitioners, doctors. Nashalla directs the Nyinda Clinic of Tibetan Medicine & Holistic Healing in Boulder, Colorado.