Beginner's Yoga and Meditation for Everyone
March 31–April 2, 2017
Retreat & Renewal, Wisdom Traditions, Yoga Retreats, Yoga, Wellness & Embodied Living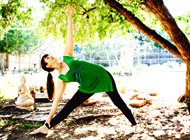 During this weekend you'll be exposed to a variety of yoga postures, breathing exercises and meditation practices that are easy to learn and participate in for everyone. No yoga or meditation experience is needed.
You will receive a firm foundation of tools and techniques so you will be able to continue what you learn on this retreat into your daily life. Yoga and meditation practice can reduce stress, increase strength, help with range of motion in your joints, improve overall flexibility, as well as elevate your mood. You will experience the transformational benefits of yoga and meditation with the focused attention that a retreat can give you.
Through the weekend we will practice awareness techniques and mindfulness practices in an easy digestible way. This foundation or fresh start will bring a solid ground from which to create a regular practice at home. We will alternate between yoga sequences that include seated, reclining and standing postures with the seated meditation to see the effect on one another.
The yoga and meditation for everyone program goals and takeaways:
The weekend will give you the direct experience of a yoga and meditation practice and the take away will be the sensations you experience as well as the actual techniques and sequences that you will take home for your practice. You will experience tools to navigate your busy life and help cultivate a view of relaxation and observation. The end result will be to help you have a more mindful life and create more awareness in the present moment.
For this retreat raw beginners are welcome as well as people that have some yoga/meditation experience. Since De is a Certified Yoga Therapist she is able to adapt the practice for injuries and issues. Truly all are welcome.
Join in part or for all of the scheduled activities: yoga, meditation (with instruction), and a tour of the Great Stupa. Great for friends, couples, or individuals. Massage available.