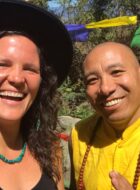 Inner-Outer Regeneration: An Eco-Dharma Approach to the Five Wisdoms
Drupon Lama Dorje and Carolina Putnam
May 8–14, 2023
Tuition + 6 nights
$700 Supporter,600 Regular,500 Subsidized
Humanity currently faces a multitude of crises: social, political, ecological, personal and more. All of these challenges arise from the human mind, and therefore may be solved in the same place. Through the lens of Buddhist philosophy, we will look at the five root causes of these problems —ego, anger, desire, envy, confusion — and practice their antidotes. We will discover their relationship to the five elements of earth, water, fire, wind, and space, and explore how to harmonize the elements within ourselves in order to transform challenge into wisdom.
We will look at Tibetan philosophy side-by-side with Regenerative Design, reflecting on our interdependence with the web of life and exploring ways to apply ancestral wisdom to heal our home, the Earth, and awaken our human potential. Regenerative design is an approach to designing systems or solutions that aims to work with or mimic natural ecosystem processes for returning energy from less usable to more usable forms.
​Global change is an individual responsibility.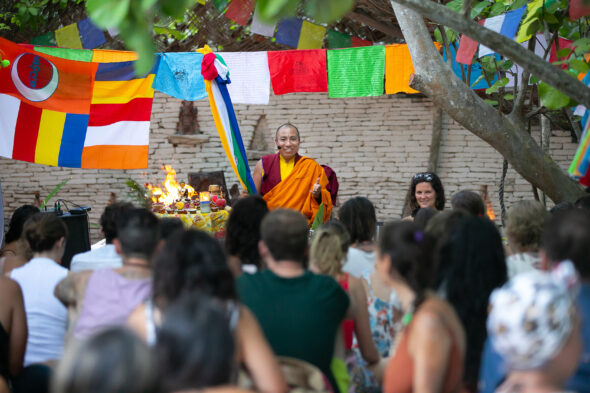 Why These Timeless Dharma Teachings are More Relevant than Ever
All life exists within the framework of cause and effect. We are interdependently connected.
Ancestral cultures have lived within a reciprocal relationship with each other and our living, breathing planet since beginningless time. They have mastered highly specific methods, ceremonies, written and oral transmissions, ​and trainings to remind us to uphold this essential worldview in every action.
The human mind believed industrialized society, chemical agriculture, and consumerism might lead to a happy life. But these ways of dominating the nature, rather than living in reciprocity, have threatened the well being of the planet and all the many beings it supports. This very same mind can address our challenges.
The purpose of dharma practice is to transform our inner obscurations, shift habitual patterns, and purify our thought patterns so we can unlock our full human potential. When we do so, we heal our relationships, cure our health, restore the vitality of the environment, and encounter an unshakeable sense of well-being for all beings.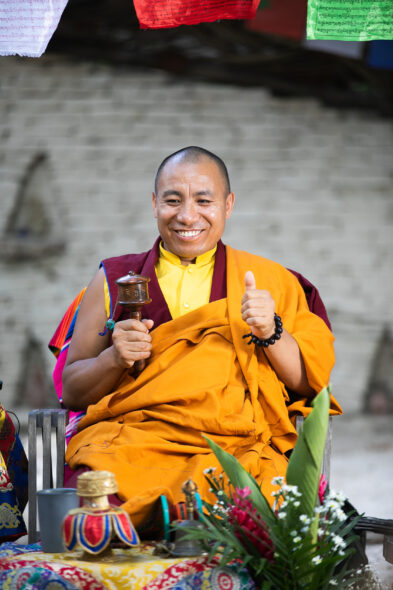 Activity Highlights
Daily training in meditation led by Lama Dorje

Tibetan ceremony and rituals for each of the five elements

Deep insight to the nature of mind and emotions

Day of silence for relating with the element of Space

Reflection and integration activities to be able to apply these precious teachings on a daily basis

Heart-to-heart discussions on how dharma can transform some of the most challenging questions of our time
lll
Tentative Schedule (subject to change)
Day 1 – May 8
2 to 5pm. Check in
6pm. Dinner
7pm. Orientation & Welcome Circle
Days 2 to 6
7am: Morning Meditation
8am: Breakfast
9am: Teaching on the Five Elements
10:30am: Break
11am: Q&A / Meditation
12:30pm: Lunch
2:30pm: Reflection & Integration
4:00pm: Break
4:30pm: Ceremony/Ritual
6:30pm: Dinner
7:30pm:  Evening Meditation
Day 7 – May 14
7am: Morning Practice – Break Silence
8am: Breakfast
9am: Meditation and Integration Circle
12:30pm: Lunch Celebration
Departure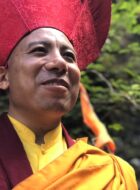 Drupon Lama Dorje's vision is to awaken the happiness of all beings, unite all cultures in global peace, and regenerate our home, the Earth. He was born in a nomadic community high in the Himalayas and at the age of five asked to become a traditional Buddhist monk under the Drikung Kagyu lineage. Lama Dorje completed 4 years of solitary retreat practicing the 5-fold Mahamudra and 6 Yogas of Naropa. For the past 13 years, Lama Dorje has been traveling the world teaching Dharma and meditation while also advocating for topics such as environmental regeneration and intercultural unity. He has a high focus on teaching in Latin American countries, speaks fluent Spanish, and has now become the first resident Lama of Costa Rica where he is building Dewachen World Peace Sanctuary! Visit Lama Dorje Foundation to learn more.
His root Lamas are  H.E. Garchen Rinpoche, Drupön Jampa Rigzin Rinpoche, H.H. Drikung Kyabgön Chetsang.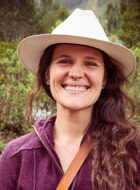 Translator and Director
Carolina has a degree in Cultural Anthropology and is the founder and director of Reviveolution nonprofit in Peru. For 10 years she has worked with indigenous cultures to expand ancestral knowledge and establish land-based sanctuaries. Drupon Lama Dorje deeply impacted Carolina's life after meeting him at an intercultural gathering in Peru. She has since devoted her time and passion to learning and expanding the precious Dharma as she feels working with our mind is the true key to intercultural unity and ecological regeneration. She travels the world with Lama as his translator and personal assistant, serves as the co-director of Lama Dorje Foundation, and is happy to be in service to bring Lama's aspirations into fruition.