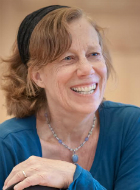 Inside (and) Out: Meditation and Yoga for Everyone
Katharine Kaufman
July 12–15, 2018
Tuition $250 + 3 nights
Our unique sensibilities are sustained by practices that include our whole being. The encouragement in this 4-day retreat is to find your way through the simple and spacious practices of meditation and yoga. You will design new playful and personal rituals you can carry into your life. Periods of silence will nourish intimacy. We will cultivate community by sharing our Way-Seeking Mind stories; the tender under-world of our being. We will practice alone and together, inside and out, in the fields, forests and groves of this sacred land.
This retreat is designed for everyone. If you have conditions that require special consideration please contact SMC.
Katharine Kaufman teaches Yoga, meditation, writing workshops, and contemplative dance in Boulder County, at Shambhala Mountain Center in Colorado and online.   She studied Yoga in Mysore, South India, and taught for many years at The Yoga Workshop and Studio Be in Boulder. Katharine is an adjunct professor at Naropa University. She holds MFAs in Performance/Choreography and Writing/Poetics. Katharine is priest ordained in the Soto Zen lineage of Kobun Chino and Vanja Palmers, Roshis.