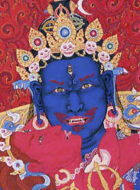 LAND • Chakrasamvara Drupchen
Greg Smith
May 7–18, 2022
Tuition $110 + 11 nights
Chakrasamvara Drupchen is a powerful practice that includes creating the full Sand Mandala and practicing the complete sadhana, including the feast offering, every day. It is especially helpful for overcoming obstacles for the coming year. The Vidyadhara requested that we do this Drupchen after Shambhala Day annually. Drupchen is a good way to accumulate mantras and also gain a thorough familiarity with the whole sadhana.
There will be guided practice and instruction on the different sections and the meaning of this profound practice. The practice includes the creation of a Chakrasamvara sand mandala over the first three days with continuous practice on land and online — except for those creating the mandala. This is followed by seven days of practicing the entire sadhana with feast practice. At the end, the mandala is used to distribute the blessings of the practice by sweeping up the sand and offering at a body of water (a pond in our case).
This on land Chakrasamvara Drupchen will not take place in the Great Stupa of Dharmakaya, but in another space with WiFi.
Prerequisite: Chakrasamvara Abisheka
You are on the registration page for the in-person, or "land," portion of this hybrid program. If you would like to participate online, from home, you can find that registration page at this link.
Please review our current COVID-19 policy before visiting SMC. 
Presenter
Greg Smith, a well known sangha artist and thangka painter, has lived and painted at Shambhala Mountain Center for many years. He has been a student of meditation since 1976, first with Chögyam Trungpa and later with his son Sakyong Mipham. Greg has taught meditation and Buddhist studies since 1982.