The Origin of Modern Mindfulness: A 4-Day Practicum of Meditation and Buddhism
June 25–30, 2019
Buddhist Meditation Retreats, Meditation & Mindfulness
The impressive health benefits of mindfulness meditation have led to its implementation in significant secular settings; from education, medicine, non-profits, business, the government and even to the military. But long before the healthy effects of meditation were recognized, it was being used as a method to directly experience one's intrinsic wakefulness and the habitual patterns of mind that generate and reinforce suffering. In this immersive retreat you'll be introduced to the central practices of Buddhist meditation with guidance from Theravāda, Zen and Tibetan Buddhist textual traditions. You'll learn the stages of meditation, the techniques that enable you to quickly stabilize your meditation practice, applications for daily life and the workplace, and the recent findings of mindfulness neuroscience.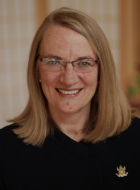 Acharya Judith Simmer-Brown, Ph.D., is Distinguished Professor of Contemplative and Religious Studies at Naropa University, and Dean of the Shambhala Teachers' Academy.  She has been a Shambhala acharya, senior dharma teacher, since 2000, and is author of Dakini's Warm Breath:  The Feminine Principle in Tibetan Buddhism and Meditation in the Classroom.  She and Richard have two adult children and three grandchildren.

Dr. Amelia Hall, Ph.D., is an assistant professor of Indo­-Tibetan Buddhism at Naropa University in Boulder, CO. She gained her PhD. in Tibetan and Himalayan Studies from the University of Oxford in 2012. She is also a contributor to the forthcoming Oxford Encyclopedia of Buddhism. She has been a Buddhist practitioner for 20 years.
Retreat Faculty
Judith Simmer-Brown, Ph.D., has just retired as Distinguished Professor of Contemplative and Religious Studies at Naropa University in Boulder, Colorado, where she has taught since 1978. As Buddhist practitioner since the early 1970's, she became a student of Chögyam Trungpa Rinpoche in 1974, and served as an acharya from 2000-2022.. Her teaching specialties are meditation […]
Dr. Amelia Hall is an assistant professor of Buddhism and department chair in the wisdom traditions department at Naropa University. She gained her PhD. in Tibetan and Himalayan Studies from the University of Oxford in 2012. She has taught and developed courses on Buddhism at Central Michigan University and Antioch University Buddhist Studies Abroad Program. […]