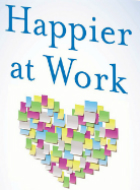 Happier at Work: How to Lead from Purpose and Love
Gayle Van Gils and Zach Mercurio
May 2–4, 2018
Tuition $399 + 2 nights
Early Bird Tuition $299 (25% off of $399 until Mar. 16)
Do you want a more inspired organization? When people are happy at work, they do better work. Through this immersive experience, discover the researched-backed practices that will allow you to cultivate personal joy at work and build a happier workplace. You will leave with the transformative tools of self-awareness and inner purpose which will allow you to manage stress, increase focus, expand empathy, and better serve those around you. In addition, you will learn how to use these tools to take strategic action to improve effectiveness and engagement in your work and organization.
In this retreat, you will:
Tap into what truly energizes you and your team, and understand how to reinvigorate your work and work culture
Understand how to radically increase engagement in your organization by connecting individuals and teams with a deeper awareness of purpose and connection to each other
Learn the science behind how purpose compels people and organizations, and researched-backed practices which help you make the shift to a purposeful mindset
Participate in exercises designed to help you discover and clearly state your and your organization's purpose
Experience how mindfulness meditation increases attention and clarity while reducing stress and distraction
Enjoy enhanced self-awareness, which is a path to greater emotional intelligence
Achieve greater emotional resilience through applications of mindfulness and compassion that reduce reactivity and increase responsiveness
Learn self-compassion and compassion practices which will enhance communication, collaboration, and inclusivity in your company
Attend as a company or team and save on tuition!
Teams of 4 or more.
Register individually, save together.
Team discount: $299 (25% off)

Early bird team discount: $225 per person, ends Mar. 16th
Zach is an author, speaker, and consultant who has helped diverse organizations and individuals around the world understand how purpose and meaning unleash human potential to create thriving organizations and lives. He is the founder and author of PurposeSpeaks.com, the popular blog on purposeful leadership, a regular contributor to the Huffington Post, and a researcher and Adjunct Faculty at Colorado State University. Zach is author of The Invisible Leader: Transform Your Life, Work, and Organization with the Power of Authentic Purpose.