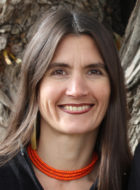 Feeding Your Demons: Ancient Wisdom for Resolving Inner Conflict
Charlotte Rotterdam
March 13–15, 2020
Tuition $195 + 2 nights
This retreat offers an introduction to the process of Feeding Your Demons, a powerful and profound method for working with rather than fighting against the obstacles, conflicts, and challenges of our lives. By meeting our fears and obsessions with tenderness, compassion, and nurturance, we allow them to transform into insight, wisdom, and strength. Drawing on traditional practices and teachings of the Tibetan Buddhist tradition, this process was developed by Lama Tsultrim Allione, a Western Buddhist teacher and author of Feeding Your Demons: Ancient Wisdom for Resolving Inner Conflict.
The weekend will include teachings, sitting meditation, discussion, and practice in the actual process of Feeding Your Demons so that it may become useful to you on a daily basis. No previous experience or knowledge of Buddhism or meditation is necessary. All are welcome.
Takeaways from this program:
Familiarity and ease with the 5-step Feeding Your Demons process.
Experience guiding others through the process.
A clearer understanding of personal demons, how they function in your life, and how you can bring compassionate transformation to them.
Meditation instruction and practice.